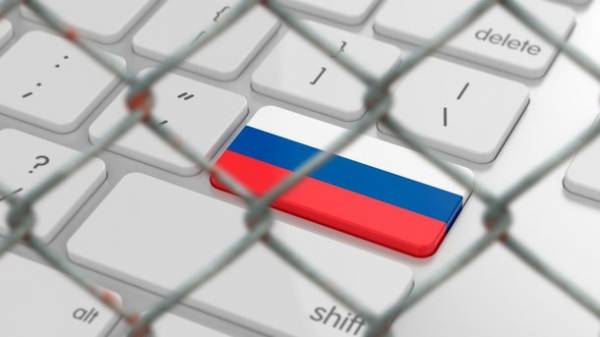 Coverage of Russian sites "Vkontakte", "Classmates", Mail.ru and Yandex has decreased in 2 – 2.4 times. Starting may 20, for a total of the average desktop coverage fell 2.3%, the data provided by Kantar TNS CMeter.
The most tangible decline began may 22, when most providers have included a lock, therefore, while on Monday, the coverage usually increases after the subsidence of the weekend, in the current situation, the recovery did not happen, and the coverage continued to fall, analysts said.
"As if the mass was not spread information about how to "avoid" blocking, as expected, most Internet users will not complicate your life, and it is easier to stop using locked resources", – said the head of the project Internet research Kantar TNS CMeter Anna Sandemanian.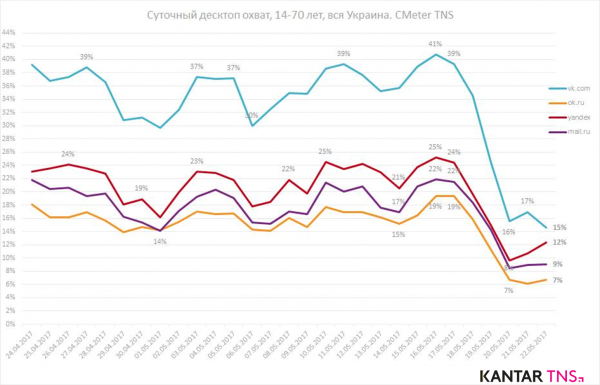 In a winning position remains Facebook, increase daily desktop coverage is 30%.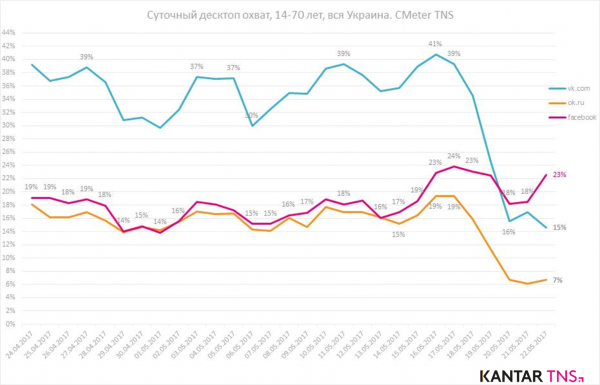 Since the announcement about blocking continues rise Opera.com weekly audience of the site browser with built-in VPN increased from 1% to 12%.
We will remind, President of Ukraine Petro Poroshenko enacted the decision of the Council of national security and defense, which involves a ban on Russian Internet sites and services, including "Mail.ru" (www.mail.ru), social networks "Vkontakte" (www.vk.com) and "Classmates" (www.ok.ru), as well as a number of the services portal of the Russian yandex.ru and other Russian resources.
In turn, the interior Ministry of Ukraine expressed his understanding that in a short time to implement the decision of Council of national security and defense of Ukraine of blocking Russian sites is not possible, however, expect that the providers will to work hard.
Also learn, how to bypass the blocking of "Vkontakte" and "Classmates".
Comments
comments