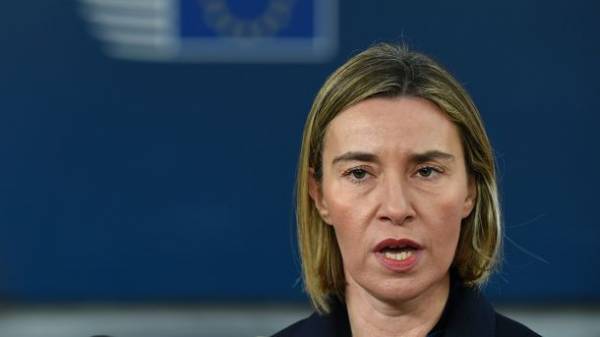 The head of European diplomacy Federica Mogherini has ceased to dwell on the negotiations on the settlement of the Russian military aggression against Ukraine in the Donbas. She stated this during the second day of the Munich security conference, answering a question of the mayor of Kiev Vitali Klitschko on whether the United States to join the "Normandy format" negotiations on the Donbass.
"Indeed, we must continue to devote attention to the situation in Ukraine. This topic was also discussed in Washington last week. It is important that the EU has constantly raised this issue to the unity of the international community for the implementation of the Minsk agreements. You know, the EU supports Ukraine in many areas. As you know, the sanctions for the illegal annexation of Crimea and the conflict in the Donbass. Such a stance will remain. But from my point of view, it is not a question of maintaining the sanctions, and the question of implementation of the Minsk agreements", – said Federica Mogherini.
As for the format, according to the head of European diplomacy, she has long ceased to dwell on formats and believes that content is more important than any format.
"Now is not the time to pay attention to the formats. We have some suggestions and ideas that we are discussing with France and Germany, with the Ukrainian government, Russia. As you know, obligations exist, the format is exposed to certain challenges. But we are ready to provide support. As long as it was about content, not form," concluded Mogherini.
Recall that today in Munich will host a meeting of foreign Ministers "channel four".
Comments
comments