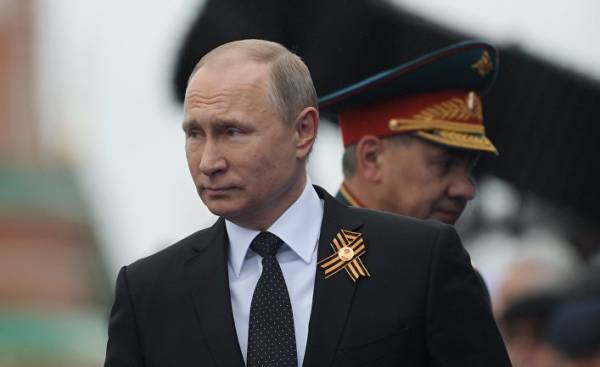 Tuesday marked the 72nd anniversary of the end of the second world war, which in Russia is called great Patriotic war. A day of mourning, conceived as the most important anti-war date, so it never became.
This time in Moscow the temperature on the Day of victory, in which usually the sun shines brightly (often due to expensive chemicals) tends to zero.
As reported by the Russian Ministry of defense on Tuesday morning, inclement weather was the reason that the Russian fighters did not participate in the military parade in Moscow. Fly over red square had 17 helicopters and 55 of the fighters, such as the Tu-160 and Tu-95 MS.
In many Russian cities swept military equipment. The guest list of Moscow did not look very impressive. The newly elected President of Moldova, Igor Dodon, was sitting next to Vladimir Putin near the Russian Duma members and veterans, who were working with mobile phones.
But bad weather did not prevent President Putin to give his traditional speech.
The President focused on the victory over fascism, said that "allowed the Nazis to unleash a bloody war" and that "no power can enslave our people."
Putin stressed that the Nazis during the Second world war, assumed the right to decide the fate of other Nations, and the Soviet Union became a powerful counterweight to this. That the Soviet Union had signed a Treaty with Nazi Germany, namely the Molotov-Ribbentrop Pact, which also decided the fate of other Nations, was not mentioned.
"We will never forget that the freedom of Europe, won our fathers".
According to the President, today, Russia should build up its defense capabilities.
"We have to increase our defence resources to effectively combat terrorism, extremism, neo-Nazism and other threats. So we are open to international cooperation."
"Russia will always be on the side of the forces of the world, those who chooses the path of equal partnership, who reject war as contrary to the very essence of life and human nature," said Putin.
"The lessons of the last war, urging us to be vigilant," — said Putin. This phrase is not worse than the choice and participation of Russia in the war in Eastern Ukraine or in Syria.
"The Russian armed forces to repel possible aggression," Putin said.
After the President's speech 144 units of military equipment rolled through red square. It is reported that the parade was attended by 10 thousand people.
The day before the victory Day the President of Ukraine Petro Poroshenko in an emotional speech, he compared Russia with Nazi Germany.
In his Twitter he wrote that Russia had annexed the Crimean Peninsula in the same way as Nazi Germany seized the territory during world war II. Poroshenko thanked the Ukrainian military for what they protect the country from the Russian aggression and underlined that does not see a secure future for Europe without peaceful borders between Russia and Ukraine.
Comments
comments