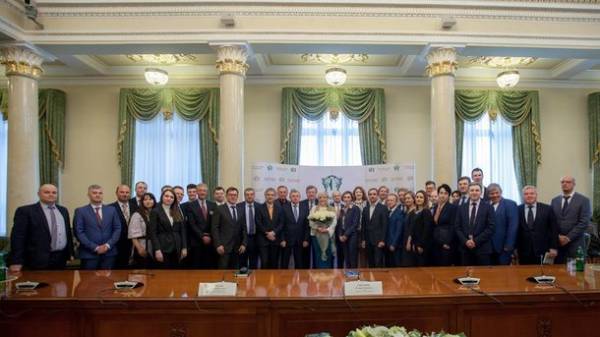 Today the national Bank is no longer headed by Valeria hontareva. Yesterday she went to a two-month vacation before the official resignation, and the duties of the head of the national Bank will perform her Deputy Jacob Smoliy. "Today," found, will he be able to become a full head of NBU in the future and how will this reshuffle on the hryvnia.
SUCCESSOR. About his desire to leave the post Chairman of the national Bank officially announced on 10 April, although rumors about this personnel decision surfaced long before. A month ago Gontareva promised that will last until may 10, and then — conclusions in the Parliament and resignation. At the same time to report to BP she is not afraid — the head of the NBU said that "to blame for the decline of the hryvnia as a stewardess in plane crash". And although the presidential submission on dismissal of the head of the NBU is still there, Gontareva has announced that from today, her duties shall be performed by Yakov Smoliy, and she goes on vacation. In NBU say unofficially that this vacation can last until mid-summer.
Resin to himself that he was in charge of the payment system and cashless settlements, as well as oversaw the work of the banknote printing and minting works and the Central storage controller. "The appointment of any new person for this position leads to internal changes in the system and instability. But, as a team member Gontareva, Smoliy at least will be able to ensure the continuity of the course. And yet — he is not identified with any political force that the head of the NBU is very important," said a member of the Economic discussion club Oleg Pendzin. But the hryvnia after a small building can once again return to around RS 27 per dollar. "Shocks will not be for the reason that resin — a representative of the team, the leadership of the NBU. Furthermore, the lack of serious contradictions in the work of the national Bank and the Cabinet guarantees the preservation of the targets set in the budget. And there the average rate is 27,2 UAH", — said Pendzin.
TWO WAYS. The political scientist Ruslan Bortnik believes that resin will not remain in the seat of the head of the national Bank for a long time. "Still, we should expect the new man on the job. And there are two possible purposes. The first is the chair is a trusted person of the President and our Western partners, for example, the Chairman of the Board "Raiffeisen Bank Aval" Vladimir Lavrenchuk. The second option — the chair will become a bargaining chip in coalition bid, because today a lot of talk about what will happen to recover the coalition. In this case, this post will take a political figure, not excepting even that one of the deputies," — he concluded.
Alternatives and challenges
The people's Deputy from BPP Vadim Denisenko notes that theoretically, the appointment of Yakov Smoliy head of the National Bank may, although other alternatives are much more likely. The experts unanimously name two names: Volodymyr Lavrenchuk, CEO and head of the Independent bankers Association of Roman bacon. Note that even in April it became known — supports the candidacy of the first President Petro Poroshenko and the European Bank for reconstruction and development. He Lavrenchuk has recently stated that he is ready to lead the NBU, "when the time comes". Political analyst Volodymyr Fesenko notes that both candidates have a good reputation, and most likely it will be either one of them or a completely unexpected option. But the head of the parliamentary Committee benpolitico and Bank activity Sergiy Rybalko considers that the question of the candidacy of the home: "With the appointment to the post of head of the NBU can not procrastinate, and most importantly, the new head of the national Bank clearly understood its tasks of development of the Ukrainian economy. He first needs to be real strategy of development of the banking system."
Comments
comments