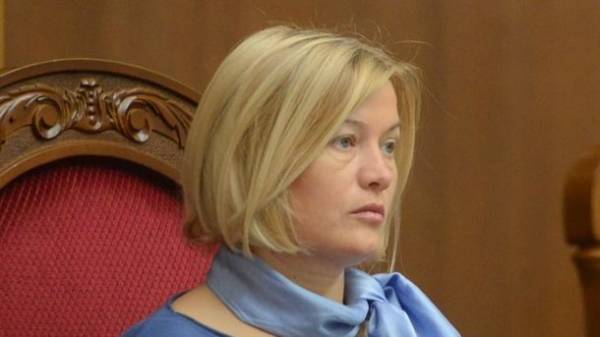 First Vice-speaker of the Verkhovna Rada, Ukraine's representative to the Humanities subgroup of the TAG Irina Gerashchenko supported a ban on the entry of Russian media representatives who violate the Ukrainian legislation at the entrance to the Crimea occupied by Russia, and considers it necessary to extend this practice to those outside the established order was visited some areas of Donbass.
"Support and share the position of the state border service, also expressed by the peer (not relatives) Anton Gerashchenko (Advisor to the head of the Ministry of internal Affairs of Ukraine, people's Deputy from "popular front" – Ed.) about the ban on entry to Ukraine of those journalists who called for the illegal occupied Crimea. And no it's not journalists, but propagandists. And about how everything "bad" at the Eurovision song contest they and curb write. So there is nothing we roam", – she wrote on his Facebook page on Sunday.
At this Gerashchenko also believes that the ban on entry to Ukraine should be imposed in respect of those propagandists who illegally, not through the checkpoints of entry and exit, "and through the uncontrolled areas of the Ukrainian-Russian border stopped in the occupied Donbass".
In this regard, the first Vice-speaker of the Ukrainian Parliament urged to help the state border service to compile lists of such persons, "therefore all who have tracked in the occupied Donbass of all kinds of Russian propagandists – the request to inform on it our intelligence services."
As reported, on may 6 and 7, the State border service of Ukraine is not missed through the border and denied entry in Ukraine for 3 years three employees of the Russian mass media that violate the legislation of Ukraine and visited the temporarily occupied Crimea through the temporarily closed border-crossing points.
Comments
comments