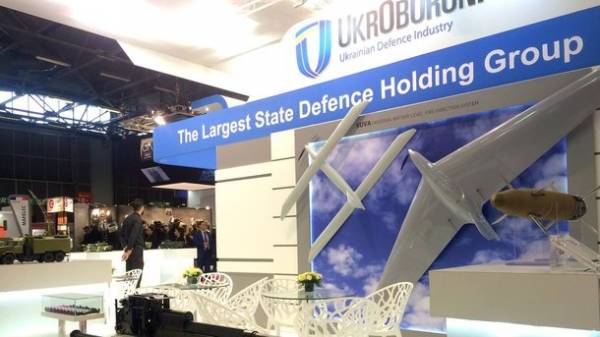 State concern "Ukroboronprom" said about the feasibility to start a broad international policy dialogue on the revision of the principles of the organization of world defense system based on the latest deterrent. About it reports a press-service of the state concern.
Reportedly, this initiative was announced by the head of "Ukroboronprom" Roman Romanov during February 15-17 Amsterdam (Netherlands) summit of the defense ministries of Europe, "European Defence Procurement in 2017".
According to the report, who headed the Ukrainian delegation at the summit, the head of "Ukroboronprom" has shared with the forum participants of the Ukrainian experience in deployed in the occupied Crimea and Donbas hybrid war, stressing that Ukraine "will continue to concentrate all its efforts on ensuring its defense capability".
Recalling that one of the prerequisites for the resolution of modern military conflict, deployed on the territory of Ukraine, is a parity of military capabilities, the representative of the Ukrainian military-industrial establishment drew special attention to large-scale human casualties, including civilians, which brings Ukraine in this hybrid war.
"This can be avoided only if fundamentally new defense system. We urge you to initiate a policy dialogue on changing the world's defense system", – he stressed.
As the head of the "Ukroboronprom", new challenges to international security put on the agenda the formation of a new task, including, for the global defense industry.
"We see the need to formulate the problem for the global defense corporations to develop new non-lethal and nondestructive means of restraint and blocking military-minded groups and people undertaking illegal actions," – said Romanov, stressing that the level of development of modern defense technology provides the ability to create effective means for a new conceptual principles that can implement this idea.
The head of state noted that Ukraine and its military industry is ready to participate in such international research project: each year in the country get a higher technical education 130 thousand young people, this is a huge scientific potential, capable to solve tasks of any complexity.
"I believe that every country can find itself in the same capacity and to combine their efforts in international collaboration to create new means of defence, which will be designed to prevent conflict rather than solving it," added Romanov.
"This is a task for decades, but the sooner we start to move in this direction, the more likely it will be solved", – said the head of "Ukroboronprom", focusing on the fact that decisions taken today, tomorrow will have an effect at all.
In 2014, Ukraine has intensified dialogue with NATO on cooperation in the military-industrial complex (MIC), and in early 2015, Kiev announced plans on joining in effect for the member countries of the Alliance system of arms procurement. Also, Ukraine is planning by 2020 to ensure full transfer of the defence industry to NATO standards.
Comments
comments