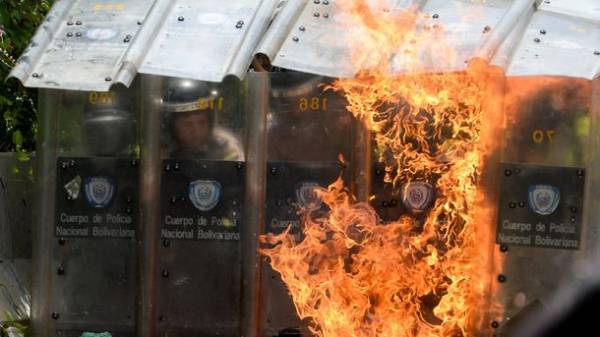 In Venezuela, according to a local leader of the opposition Henrique Capriles, began a large-scale arrests among the military ranks. 85 members of the armed forces were arrested, writes dw.com.
The reason is the suppression of the opposition. According to the oppositionist, the relatives of the detainees asked him to publicize the arrests.
"In the armed forces reigns dissatisfaction," said Capriles.
Military is considered to be a key force in the conflict. President Nicolas Maduro deliberately tried to consolidate his power in the armed forces, having recourse, including cash infusions. In addition, of the 32 Ministers of the Venezuelan government 11 represent the army and security forces, which strengthens the loyalty of the Cabinet.
Video: Demonstrators in Venezuela have flown off the handle
From the beginning of April during the riots in Venezuela were killed, at least 37 people, more than 700 were injured. Hundreds of demonstrators were detained. Was killed the leader of the student movement at the Polytechnic University of Anzoategui.
However, protests against President Maduro did not subside. Protesters unhappy with the difficult economic situation in the country, which led to a shortage in supply.
Venezuela is suffering from a deep economic crisis that Maduro explains falling oil prices (the main export product of this Latin American country), and experts call the result of socialist policies of the President. In addition, the country has dramatically worsened the crime situation in 2016 in Venezuela were killed, almost 28.5 thousand people.
Comments
comments