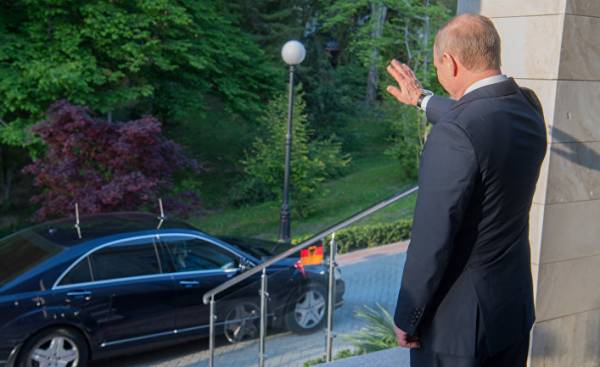 After meeting with the President of Russia, Angela Merkel spoke directly. She's right that continues to look for opportunities for dialogue. But Putin's reaction destroys all hopes.
Tuesday — Sochi to Abu Dhabi, Jeddah, Brussels — the number of trips Chancellor is growing every day, and you would respect even Genscher (Hans-Dietrich Genscher). This activity is mainly associated with Germany's presidency in the G20 and preparations for the July summit in Hamburg. But in addition to German business interests in the Gulf, it is also about finding ways to resolve wars and conflicts that have long kept Europe in suspense.
It is a war in Syria (over six years) and the conflict in Ukraine (over three years). Stop "Brussels" dictates that soon the attention of the EU and Berlin will be fully absorbed by negotiating a "divorce" with the UK. They are not only complex (corny to mention it), they threaten to escalate into "the war of the roses". And it is very expensive all cost.
"Significant differences"
(Civil) war in Syria and Eastern Ukraine has brought huge sufferings. In this respect, the Chancellor is absolutely right, trying without any illusions to negotiate with the Russian leadership, which is directly or indirectly involved in both conflicts. After a meeting with President Putin, Angela Merkel did not hide anything and told about "significant differences".
Eastern Ukraine continues to move to the split; the separatists would not be able to do this without the help and approval of Moscow. Putin, of course, blames the government in Kiev. The impression that he was ruining hopes for a constructive participation of Russia in resolving the conflict. In Ukraine constructed facts; no one understands how it can be reversed. This applies to Syria, where Assad keeps power thanks to the Russian-Iranian intervention.
Angela Merkel, one of the leaders of world politics and a candidate for election for the first time in two years visited Russia again. The interests of Germany and Russia coincide, but for large-scale conflict consent was not. There is no progress. Putin is Putin. In the West, he lost their partners, deal with trump could not be reached. The Outlook remains grim.
Comments
comments