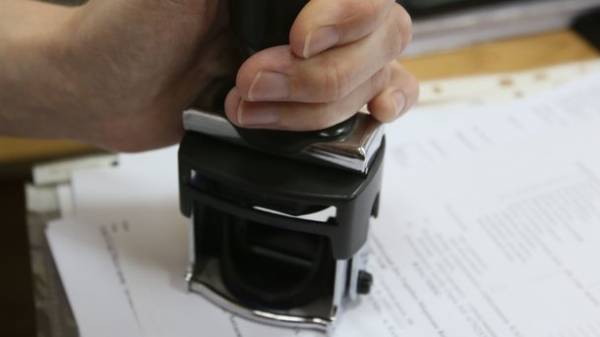 After a month of "wet" printing on several papers will be optional — the Verkhovna Rada has canceled it for businesses. The law will come into force on 19 July. Print will remain mandatory for documents issued by the bodies of state power (except for extracts from electronic registries), notaries, doctors. But entrepreneurs may not seal as agreement, and the documents submitted to state agencies — referrals and reporting.
On March 23 the Verkhovna Rada endorsed a bill abolishing the compulsory stamp for all businesses on all official documents — enough signatures Director of the company or persons authorized by him. At the same time the companies retained the right to seal the signature stamp.
According to the head of the Verkhovna Rada Committee on entrepreneurship Victor Galasyuk, no print will not affect the legitimacy of the document, as its presence will not automatically make the paper valid. For this purpose already there are other methods of authentication such as digital signature, Unified register of entrepreneurs. But officials for refusing to accept from the company a document without printing promise fine of 850-1700 UAH.
Opinions of experts were divided: one say that it will facilitate the conduct of business, while others — afraid of complications. "My clients say they still trust the paper with printing and going to use a stamp, although not willing to demand it from trusted business partners", — said the lawyer Vladimir Stolitny.
Economist Ivan Nikitchenko noted that print will bring Ukraine closer to Western standards of doing business, say, in the EU and US them practically do not use: "Now any printing is easy to forge, so it is time to give, freeing businesses from unnecessary bureaucracy and costs for the manufacture of "stamps".
The owner of IT-company Yuriy sivitsky told "Today" that as soon as the law comes into force, it will issue an order about the seizure of the seals: "the Most reliable way to confirm the authenticity of the document — require an e-document with an electronic signature. If this is not possible or not necessary to prove that the document is a real help in court the signatory name, written by him personally with his signature".
But economist Alexander Okhrimenko fears that after the abolition of the seals of the officials will begin to require firms notarized signed by all persons entitled to sign documents. "And in the end nothing will change," he says.
Comments
comments