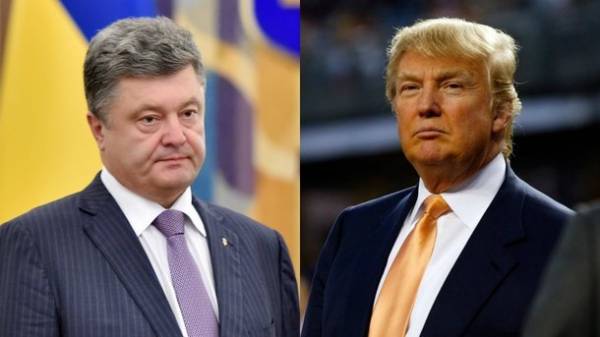 The main problems that prevent the meeting of President of Ukraine Petro Poroshenko and his American colleagues, is to support the majority of Ukrainian politicians Hillary Clinton during the US elections, and the lack of topics of conversation. This opinion was expressed in an interview with "Apostrophe" Russian opposition politician Ilya Ponomarev.
According to him, the current Administration, trump did not forget the Ukrainian politicians who supported the presidential elections in the United States.
"The American side remains a very high level of irritation because the same people are busy, who recently campaigned for Clinton and the White house is very sensitive. This is for Ukraine a serious problem, that is, you need to put other people for negotiations that would not have been exposed during the elections. By the way, for the same reason for the reluctance to communicate with political opponents can not form the cadre of the state Department, because too many of the American diplomats spoke out against trump, and it became for them a black mark," said Ponomarev.
But the object of an objective reason for the lack of meetings between leaders of countries is the lack of topics of conversation.
"This theme could be a new peace plan. But you have such a situation that, although there are a large number of Amateur peace plans that different members of Parliament go and speak, but they are not worth anything except personal ambition. So Americans, such ideas are quite interesting. They are already tired of these Amateur politicians, who they hang out all the time and trying to date someone that causes irritation. In Washington saying, we want to talk, but with those people who are willing to take responsibility for their words, who are ready to offer what they themselves can do, rather than fresh ideas in the style of "let's all jump on the moon." And, of course, the initiative must come from the President," – said the Russian opposition.
As said the expert, Ukraine is far from the priorities of U.S. President Donald trump, but Ukrainian President Petro Poroshenko will have a chance to bond with US during a personal meeting.
Comments
comments