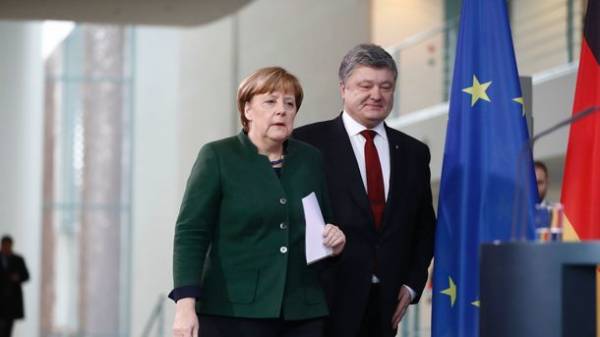 German Chancellor Angela Merkel during a meeting with Russian leader Vladimir Putin in Sochi, where they discussed Ukraine, he promised to speak to Ukrainian President Petro Poroshenko. This was stated by Russian presidential aide Yuri Ushakov, reports "RIA Novosti".
According to him, the German politician said about Putin during his visit to Sochi.
"Merkel is going to negotiate with Poroshenko. She said to our President", — said Ushakov told reporters.
We will remind, yesterday, on may 2, in Sochi took place the meeting of Angela Merkel with Russian President Vladimir Putin.
During the negotiations, Merkel said that there is no need to conclude a new agreement within the framework of the peaceful settlement of the situation in the Donbas. According to her, she would lifting sanctions on Russia after the implementation of the Minsk agreements.
In turn, the political analyst on international Affairs Oleg Voloshin said that Angela Merkel can persuade Kiev to agree to any terms with the "Minsk process" to end the war in the Donbass, which will remove the sanctions against Russia.
Comments
comments