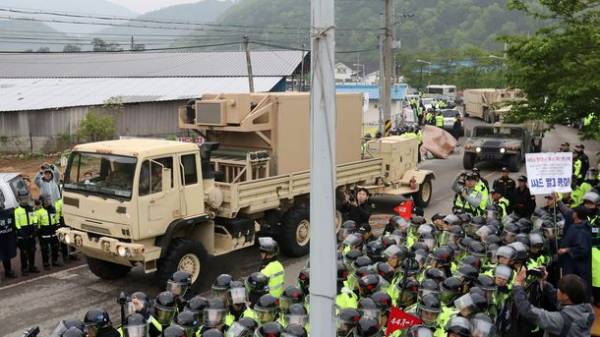 Equipment for the modern American system natmosphere of intercepting ballistic missiles, THAAD Wednesday morning was taken to a placement system in South Korea, the Agency "Renhap".
On the territory of the former Golf club in Seongju County of Gyeongsang province included six trucks with radar and other equipment for THAAD. According to the Agency, the arrival of equipment caused clashes between police and local residents.
Seoul last year took the decision to deploy in South Korea THAAD in 2017. System components have already been delivered to the South of the Korean Peninsula. In may, the location of the system must be completed.
According to reports by South Korean media, the THAAD battery in South Korea will have from four to nine mobile crawler pads, each with up to eight missile interceptors, although official data has not been published yet. The battery will also be equipped with anti-missile radar TPY-2 TM.
The range of such missiles is said not to exceed 200 kilometers.
China opposed such accommodation. In turn the Deputy chief of the GOU of the General staff of the Russian Federation Victor Pozniki said that the United States under the pretext of countering Iran and North Korea are deploying the system, threatening ballistic missiles of Russia and China.
Comments
comments