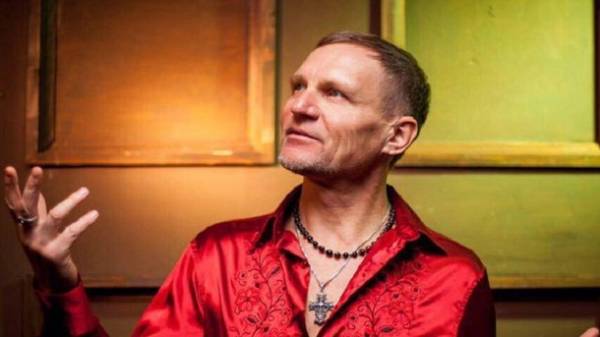 The second day in social networks and media continue to discuss the scandal of the famous Ukrainian rock musician, the leader of the band "Screams Vodoplyasova" Oleg Violin. Experts believe that the reason for this resonance were the words of the musician about "ghetto" and not give the topic "diminish" the Russian bots who play in the division in Ukraine.
On Thursday the Internet-the edition "Ukrainian truth" has published quotes from an interview with the leader of "VV" which he gave during the "Winter school of journalism". The special resonance was caused by statements of Oleg Skrypka about those who are not able to learn the Ukrainian language.
"People who can't learn Ukrainian, have a low IQ, so were diagnosed with "idiocy". They must be separated because they are socially dangerous, it is necessary to create a ghetto for them. And we will help them how to help people with problems, on a volunteer basis we sing them, "Vladimir Central" – quoted by "Ukrainian truth" the expression of the musician.
Russian officials almost immediately reacted to this publication. "This should take the form of stretch marks and hang from Boryspil Airport to downtown:"Welcome participants of Eurovision. Feel in Europe, we are building a ghetto for morons who don't speak Ukrainian. Welcome to Ukraine!", – wrote in Facebook the speaker of the Russian foreign Ministry Maria Zakharova.
However, criticism of the statements of Oleg Violin was made by the Ukrainian government. "I'm sorry he spoke about a ghetto in Ukraine – in a country where freedom was and will remain a major imperative for an enlightened man!" – wrote in his Facebook, interior Minister of Ukraine Arsen Avakov.
A heated discussion around the statements of Oleg Skrypka broke out in social networks:
Himself Oleg Skrypka explained that his words about the "ghetto" was twisted. He, in particular, reminded that the Russians have created privileged conditions for the development of their language. "Because the legislation of the Russian Federation requires all who claim to live, work or study in this country, provide a certificate of knowledge of Russian, knowledge of Russian history and fundamentals of legislation. In Russia, even from the newly arrived foreigners require immersion in the linguistic space of the country", – he wrote in Facebook.
The musician stressed that our government should provide the Ukrainians more opportunities to learn the native language.
"But if some citizens are not able to study it, then they doom themselves to a asocial perspective … I offer to help the Russian-speaking Ukrainians, providing them with educational support. At a time when the law of neighboring States do not even allow to cross the Russian border without a certificate of proficiency in Russian. So my somewhat ironic proposal, expressed in arbitrary communication with students and formulated a conspiracy-technologists as "the ghetto" is much more humane than the Russian reality," he wrote.
"Ghetto" is a dangerous word
According to experts, the reason for such a violent reaction in social networks is the word "ghetto", which Oleg Skripka used in his statement.
"Few people now remember that the first Jewish ghetto appeared in the middle ages, but we associate it with fascism. We need to be very careful using such words," said the head of the center for applied political studies "Penta" Volodymyr Fesenko in comments Today.
Thus, according to the Deputy head of the situations modeling Agency Alex golobutsky, many who protested, could not read his statement.
"We live in an information noise. Many people do not even read what he said. But is the word "ghetto". If he hadn't said that word, nothing would have happened. There are such code words, which are very easy to set and, so to speak, they continue to promote", he explained in comments Today.
The involvement of Russia and its bots
The very same "promotion" of the scandal, according to experts, there are several reasons.
"People in our media age, every day we need to talk about something new, people rush from one newsmaker to another and think that's life" – says "Today" one of the reasons the political scientist Alexander paly.
In such cases, gradually, the theme is on the decline, Alexey golobutsky. "One was outraged… outraged second… and it can die if it is not to give a push," explained he, adding that this subject was actively taken up in Russia. "If Maria Zakharova talks about it… She (the speaker of the foreign Ministry. – Ed.) discussing trump, discusses other topics the high level, and here she talks about the Violin, about an interview with Ukrainian musician…" – said Alexey golobutsky.
In addition, according to Vladimir Fesenko, there are artificial fanning in social networks. "In any campaign are always bots. There were bots from the respective poltical, there are lots of Russian bots that operate on the Ukrainian news site", he said, stressing that there is sincere indignation of the people.
And this disturbance, as noted by Alex golobutsky, social networking can be a certain way to model. "How to work social media – people are already discussing not the specific words, do not give a link to the text. And already begins with what he is a bad man, how could he say such a thing. Everything else is irrelevant. I'm talking as a professional that is very easily done," he said.
But like with the Violin, can use to play on the split in Ukrainian society, and this is a serious problem, says Vladimir Fesenko.
"We have seen aggression against the statements of the Violin… Earlier a similar reaction was on the mandrel. Two figures of contemporary Ukrainian culture, show business tried to speak in a different context, on different occasions, in different forms, but tried to speak out on political issues. It ended in fact, and in another case scandals. It is significant, it reflects the current state of deep internal ideological ideological conflicts in the Ukrainian society", – the expert believes.
Alexander paly offers all do not exaggerate the problem around the Violin. "We have a language topic died down, and someone, probably her bored. People speak in their own language, and all understand each other. This is a great achievement of Ukraine that people can speak in their own language and understand each other," he said.
The experts agree that in situations such as with a Violin, Russia will use all opportunities to discredit Ukraine in the eyes of the international community, including in judicial proceedings in the International court of justice.
"Not only the Violin but also all those who will speak on the topic of Russians and Russian speakers in Ukraine, it is necessary to think ten times, and then say," warned Vladimir Fesenko.
Comments
comments