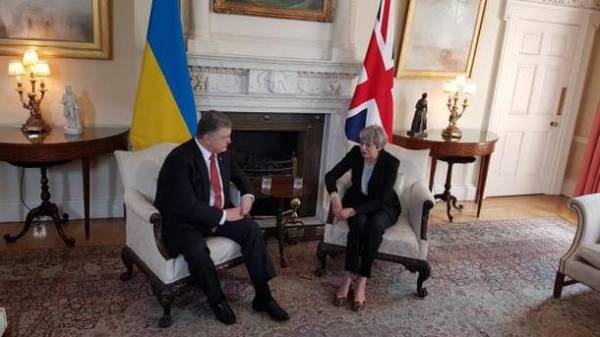 The President of Ukraine Petro Poroshenko, while in London, met with the Prime Minister of great Britain Teresa may.
"Thank you for your stance against our sovereignty, territorial integrity and the situation regarding the illegal annexation of Crimea. Find the position of the United Kingdom and the Budapest Memorandum to guarantee the territorial integrity and sovereignty," Poroshenko said in response to assurances from the British Prime Minister for supporting Ukraine.
The Ukrainian leader recalled that the last official visit of the Ukrainian President was many years ago so have a lot of questions.
"A lot of issues for discussion is on the agenda, including your support of our reforms, for which I am grateful. We want to discuss cooperation in the security sphere, as it is very important to us. We appreciate the efficient cooperation of the United Kingdom and Ukraine. Our exchange of experience is very positive and effective. We struggle and democracy. It will be an investment in our future – a shared future security. We are happy to the level of our cooperation", – said the President of Ukraine.
Poroshenko also invited may to visit Ukraine.
As earlier reported, during his visit to Britain Petro Poroshenko has held a meeting with representatives of business circles of the country. The head of state noted the successful cooperation between the Ukrainian enterprise "Antonov" and the British company "Dowty Propellers" in the design of transport aircraft An-132D.
He also performed at the Royal Institute of international Affairs Chatham House, where she spoke about Russian aggressionand the appropriateness of the sanctions remain.
Comments
comments