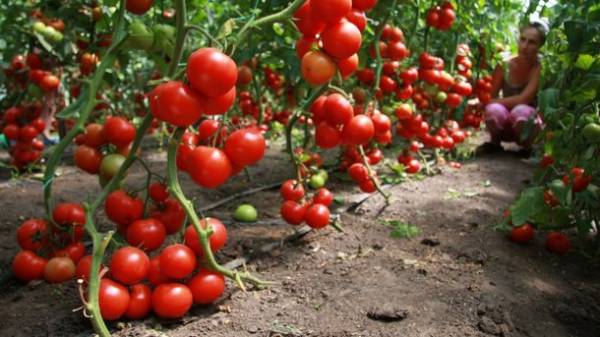 Tomato is one of the most popular vegetables on our sites. Own fresh, juicy, grown without nitrates and excess chemicals the fruit, filled with summer sun — this is what love tomatoes gardeners. Huge variety of varieties, differing in growth, taste, size and color of the fruit is really able to capture the imagination. But to get a vegetable that will satisfy you with its kind, will delight in the winter in the Bank and summer in a salad, you need to choose the right seeds and learning how to read the information on the packaging.
What are tomatoes, how to choose seeds, as well as new and promising varieties of "Today" said the Director of TD "Summer" Victor Nikitan and experienced woman from Zhitomir Nelly Lupinus.
LIANOVIDNY: GROW BEFORE THE FROSTS HAVE A LOT OF BRUSHES, BUT REQUIRE SUPPORT
Indeterminate, or lianovidny varieties and hybrids grow up to the first frosts, actively shaping stepchildren. They require support, but the yield of these tomatoes are the maximum — they are tied at 12-15 brushes on the stem, perfectly responding to the requirements for growing on a trellis or in a greenhouse. For indeterminate tomatoes are all varieties with very large fruits. It indeterminate tomatoes allow you to get 15-20 kg of tomatoes per Bush. Examples of such varieties and hybrids can be very productive razvorotnyh a hybrid of a Griffin, with fruit, 200 g, high resistance to stress and diseases, an unusually large Cap of Monomakh, which gives the fruit weight 1.2—1.5 kg, a variety of cherry, but also classic De Barao and hybrids Tarasenko.
Semi-determinant tomatoes grow to a height of 1.5—1.7 m, require support, and complete their growth at 7-9 brush. These varieties are usually grown in the open ground or low greenhouses. Examples of such varieties can be Orange — the perfect sweet and sour orange tomato, hybrid F1 Toyota— an excellent plum for preservation, Crown F1 hybrid with long bunches of 9-11 medium-sized round tomatoes.
UNDERSIZED: EARLY AND SUPERRANGE VARIETIES RESISTANT TO DISEASES AND TOLERATE DROUGHT
Determinate, or dwarf tomato varieties grow to a height of 0.8—1.2 meters, versus 3-5 brushes. Usually, it's early and superrange varieties that perfectly meet the requirements of the open ground. But yields rarely exceed 3-5 kg per square meter of planting. Classic are undersized tomatoes Sanka, Newbie, Ephemera, Balcony miracle. In the last time there was a great new hybrids, such as Semko 2005 — tomato resistant to late blight, and Katya F1, perfectly tolerate drought and stress.
ACCORDING TO THE INSTRUCTIONS. On the pack of tomatoes definitely otzyvaetsya the shelf life of the seed (usually this is three years, but under good storage conditions, they will be high-quality with good germination for several more years), and ideally — and the year of harvest. The code F1 means that the seeds pack a hybrid. Such plants are characterized by high yield, resistance to diseases and many pests. But you will not be able to reproduce hybrid seed: his descendants will be varied and will not necessarily retain the properties of the parent. And often old varieties inferior to modern hybrids in sustainability and productivity.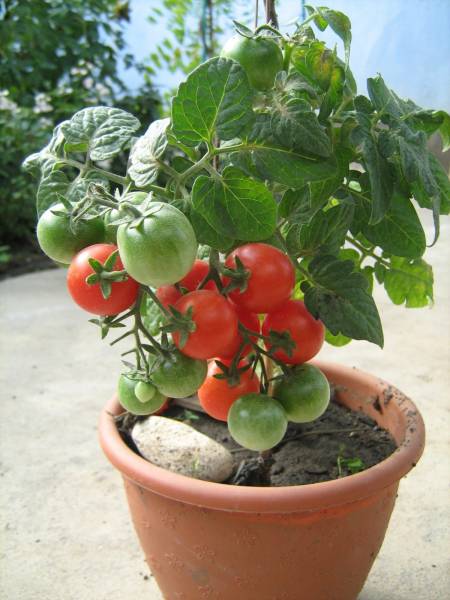 Low-growing, usually early
RULES FOR BUYING SEEDS
Do not buy seeds of doubtful manufacturers with their cheapness. Quality seeds of high yielding modern hybrids can't be cheap — the cost is quite high. In addition, it makes sense to buy them in an enclosed, heated shop quite a few times to water the seeds or subjected to sharp temperature changes, they lost germination. Therefore, the stalls and open stalls — not the best place. Well-chosen tomato delight you with excellent results. For example, to get an early crop in the open ground will suit superrange hybrids, and to obtain maximum yield per unit area — indeterminate hybrids with fruits of 150-200 g.
PESTS AND DISEASES
Resistance to pests and diseases is a very important quality of seeds, as in modern conditions, pathogens are rapidly changing. Buying tomato seeds, on the pack you can see the different letter designations: V, T, R etc. these signs indicate the presence of resistance of these cultivars and hybrids to certain diseases and pests of plants:
A — Alternaria blight (black spot of tomatoes), s — ant (brown spotting), CT — the tobacco mosaic virus, V — verticillatae wilt, F — Fusarium wilt, N — resistance to lesion nematode, and R, or PI, — blight.
The numbers below the letters indicate the race of the pathogen, which is resistant hybrid. Icons may be several, which means resistance to several types of pests and diseases.
Comments
comments