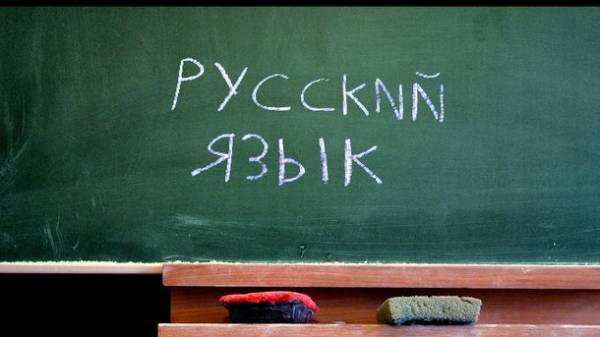 Russian language is more lost during the last 20 years since the former Soviet republics began to try to win their linguistic independence. This writes the newspaper the Financial Times, reports ZN.ua.
The publication notes that the reduction of the influence of language indicates the loss of Moscow's influence, despite the efforts of Russian President Vladimir Putin to restore the former Soviet importance of Russia on the world stage with the help of military intervention in Ukraine and Syria.
Faster than anywhere else, the use of the Russian language has decreased in Kazakhstan, where in 2016, only 0.7% of people admitted that they use it at home, while in 1994, there were 33.7 per cent. This is confirmed by calculations of the research group Euromonitor International, based on national data from different countries, and UN data.
The newspaper reminds about the intention of the President of Kazakhstan Nursultan Nazarbayev to return the country to the use of the Latin alphabet. The Kazakh leader noted that the transition to Cyrillic in 1940-ies of the last century was due to "political reasons".
In Estonia and Latvia the number of people who called Russian their native language, since 1994, has decreased by about 10%. In particular, in Latvia, in 24 years the number of Russian-speaking people decreased from 40.5% to 29.8% of the total population. In Estonia in 1994, such residents were 33,3%, and now it is 23.4%.
The publication writes that Ukraine also scored a similar reduction in Russian. In 1994 such people here was 33.9%. As of last year was 24.4 percent.
Also the Russian-speaking minority has declined in Azerbaijan, Lithuania, Turkmenistan and Uzbekistan. In Georgia, which survived the war with Russia in 2008, those who speak Russian, over the past two decades decreased from 6.4% to 1.1%.
The General partner of the Moscow consulting firm Macro-Advisory Chris Weafer said that the decline of the Russian language and the rise of national languages such as Kazakh, Latvian, and Ukrainian, were caused by political forces that emerged after the collapse of the Soviet Union. "The country were imprisoned under Soviet control. And when they are freed, I wanted to break all signs of this opinion, including the language," – said the expert. "Partly this is in order to distance themselves from Russian influence: cultural and especially political, for fear that the preservation of the Russian language will make it easier for a task to influence their policies through the Russian propaganda", – he added
It was recently reported that almost 70% of Ukrainians consider their native language Ukrainian.
Comments
comments