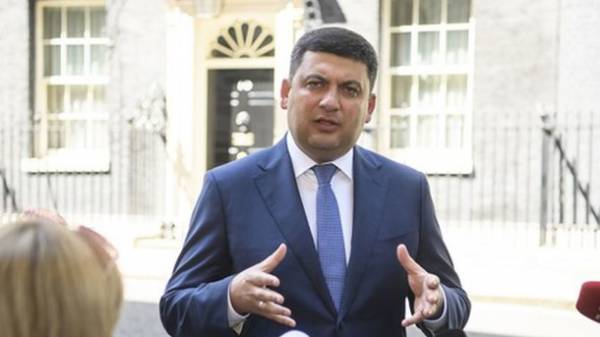 Prime Minister of Ukraine Volodymyr Groysman during a meeting with deputies of the Parliament of the United Kingdom noted that Kiev and London take on a new level of cooperation, the press service of the Secretariat of the Ukrainian government on Thursday evening.
"Today was held a conference on reforms in Ukraine, met yesterday with Prime Minister Theresa may. As a former speaker of Parliament, believe that the group of inter-parliamentary relations is a good channel of interaction on the parliamentary level and to coordinate joint action. We feel your principled and continuous support. We believe that we are now entering a new level (of cooperation. – Ed.)", – said Groisman during the meeting with Chairman and members of the multiparty parliamentary liaison group of the British Parliament with the Parliament, held in the framework of his official visit to this country.
Prime Minister of Ukraine told members of the parliamentary group about the main reforms implemented by the Ukrainian government, and progress, in particular in the field of anti-corruption, public e-procurement, transparency of public registers, system of electronic Declaration.
"Reforms are, Ukraine is changing, the economy is recovering. It must be strengthened, and I thank you for your support", – said Groisman.
During the conversation the parties also touched upon the situation in the Donbas. The Ukrainian Prime Minister briefed the British parliamentarians about the daily attacks and the need to confront the challenges of not only military aggression, but also energy, economic, and informational.
"We have a serious challenge. Supporting, helping Ukraine, we all together save the democratic world," – said Groisman.
Comments
comments