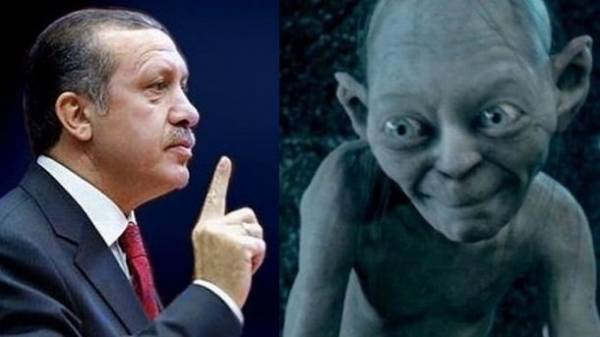 The court of aydın province in Western Turkey met the doctor Bilgin Çiftçi, who compared President Tayyip Erdogan to the character Gollum from the trilogy "the Lord of the rings", reports 112.ua with reference to Evrensel. The court ruled that the image does not offend the President.
Note, Çiftçi in October of 2015 posted on his Facebook page several photos of Erdogan and Gollum with the same, in his opinion, expressions of wonder and delight on their faces. After that, the man was fired from work, and his publications became interested in the court. In June 2016 he was sentenced to one year probation.
Before Çiftçi has stood the Director of the trilogy "the Lord of the rings" Peter Jackson. He explained that the picture does not depict Gollum and sméagol — positive character, which is then turned into Gollum.
As the channel T24, according to the lawyer of the Çiftçi Hijran Danisman, the defense line was based on the idea that Gollum is not a negative character, so the comparison is not offensive. "To prove this, we had several times to review "the Lord of the rings". In this sense, we protect the reputation of Gollum," added the lawyer.
Notably, during a similar picture to one year probation and deprivation of rights of guardianship sentenced a Turkish blogger Rifat Cetin. To determine whether the image offends Erdogan, the Turkish court requested the experts to rate the image of Gollum. The blogger himself said that he would appeal, as at the time of publication of the image Erdogan was Prime Minister and not the President.
Under Turkish law to insult any leader of a country may be deprived of liberty for a term up to four years. For the last time in the country brought about 1,8 thousand criminal cases of insulting the head of state.
Comments
comments