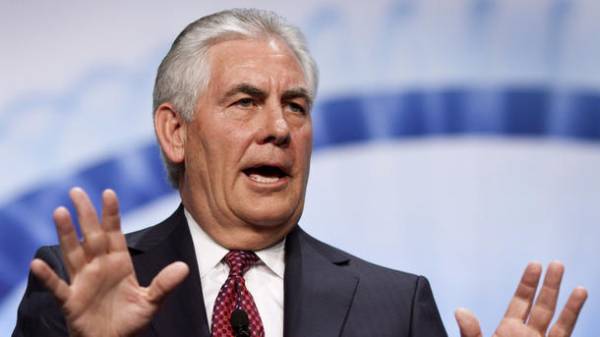 The American administration is not going to interfere in the internal Affairs of the DPRK. This was announced by the U.S. Secretary Rex Tillerson revealed today in an interview with ABC television.
"We have no intentions to change the regime in North Korea, it is not our goal, he said. – It is absolutely clear that our goal is the denuclearization of the Korean Peninsula."
According to Tillerson, at the last U.S.-China summit, Chinese President XI Jinping "expressed agreement that the situation has reached new levels of seriousness and threat." "He (XI Jinping) would like to support the attempt to influence Pyongyang to change its attitude to the need for this (nuclear) weapons," – said the Secretary of state, noting that Washington expects Beijing in this regard for further action.
The talks of the President of the USA of Donald trump and Chinese leader he called a "very open and very sincere."
Tillerson reiterated that the nuclear weapons program of the DPRK, "causing US serious concern."
"We absolutely made it clear to the regime in Pyongyang that want her termination," he concluded.
XI Jinping was on an official visit to the United States on April 6-7. His talks with trump was held behind closed doors in the estate "Mar-a-Lago" in Florida.
Major topics of discussion was the trade policies of the two countries, the situation around the nuclear program of the DPRK and a number of other regional issues of mutual interest.
Comments
comments