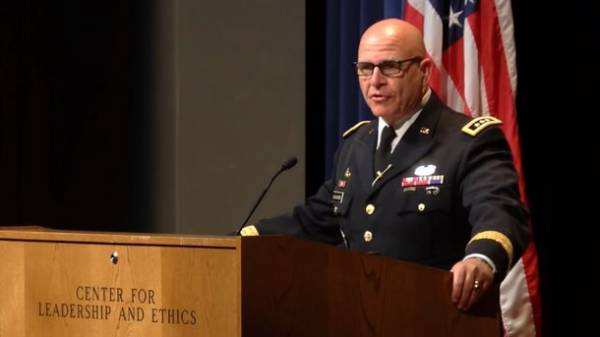 The upcoming visit of U.S. Secretary of state Rex Tillerson in Moscow will determine where Washington will be to consider Russia a partner or an opponent. This opinion was expressed on air of TV channel Fox News the assistant to the President for national security Herbert McMaster.
US relations with Russia "can become whatever I want," Moscow, he said, when asked to assess the state of bilateral relations between States.
"Whether they want it to be relations of rivalry? I can't imagine that this option meets the interests of Russia. Or they want a relationship that allows you to find areas of mutually beneficial cooperation?" – asked the assistant to the President rhetorically.
According to McMaster, this theme will be engaged during a visit to Moscow Tillerson. "I believe that our Secretary of state will explore this topic with the Russian leadership this week. President (USA Donald trump), for its part, is determined to do everything to promote the interests of America. And if it entails interaction with other decision-making (world problems), contributing to our security, the President will do so," assured the assistant to the national security.
"In fact, now from the leadership of Russia to make it rethink what it does in the middle East," concluded McMaster.
U.S. Secretary of state Rex Tillerson will come again to Moscow for talks with foreign Minister of Russia Sergey Lavrov. "On April 11-12 in Moscow on a working visit to the US Secretary of state Tillerson, – said the Russian foreign Ministry. – This is his first visit to our country as the head of foreign policy Department of the administration of Donald trump".
Earlier it was reported that during next week's visit to Moscow U.S. Secretary of state Rex Tillerson can make accusing Russia of complicity and concealment of war crimes committed by the regime of Bashar al-Assad.
Comments
comments