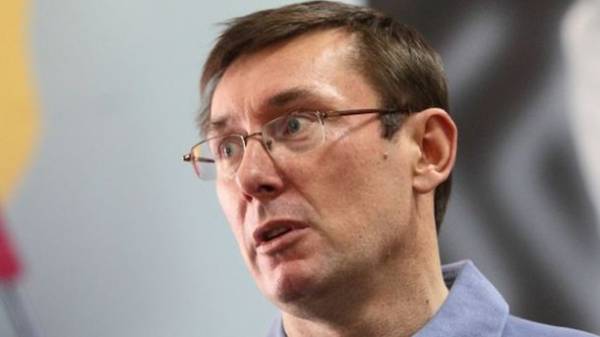 The General Prosecutor of Ukraine Yury Lutsenko declares that he did not aspire to any other political office and intends to bring to completion the work started in the Prosecutor's office.
"I have a lot of plans. I now have no other political ambitions… to present yourself as a candidate for political office without a complete serious cases in the Prosecutor's office I can't," he said at a briefing Friday in Kyiv, answering a question about his attitude to the filing of the ex-Prosecutor General Viktor Shokin to the claim of renewal of his appointment.
As reported, Shokin has filed a lawsuit in the Supreme administrative court of Ukraine (SACU) about a recognition illegal and cancellation of decision on his dismissal and restoration of administrative positions. In the case stated that the plaintiff – V. Shokin, defendants – the President of Ukraine Petro Poroshenko, the Verkhovna Rada (the representative of the defendant Nicholas Olefirenko). Claim consideration is appointed to April 10. The case will be referred to a panel of judges.
In a press-service Vasu explained that Shokin asks to recognize illegal and to cancel the decision of the Verkhovna Rada of giving consent to his dismissal, as well as the relevant decrees of the President. In addition, the ex-attorney General asks to restore it "to an administrative post".
29 March 2016 the Verkhovna Rada gave its consent to the dismissal of the President of Ukraine Poroshenko, Prosecutor General Shokina. 3 APR Poroshenko has signed a decree dismissing him from his post. In may of the same year the Prosecutor General of Ukraine was appointed Yuriy Lutsenko.
According to the adopted by Parliament last year a new edition of the law "On judicial system and status of judges", which the President of Ukraine Petro Poroshenko signed in July 2016, the new Supreme court will be composed of no more than 200 judges and the Grand chamber of the Supreme court of cassation, administrative, economic, criminal, and civil courts.
In November 2016 in Ukraine launched a contest for occupation 120 posts of judges of the new Supreme court, to apply for membership in which, under current law, can persons without experience as a judge. In General, the participation in the competition was allowed more than 650 candidates.
March 23, 2017, the head of the High qualifications Commission of judges (vkks) of Ukraine Sergiy Koziakov said that he expects to fill at least 65 vacancies in the new Supreme court of Ukraine until the summer of this year.
Comments
comments