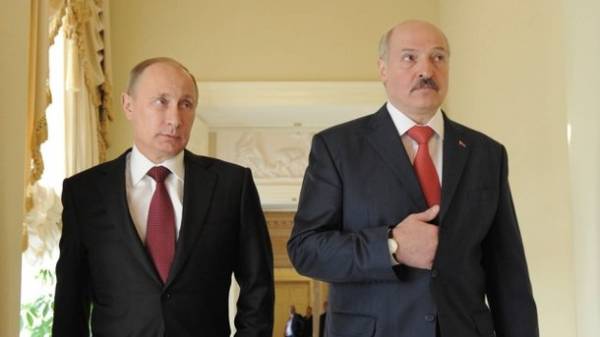 The presidents of Russia and Belarus Vladimir Putin and Alexander Lukashenko during the meeting scheduled for April 3, will discuss "the common market without exemptions and diskriminaci". This was reported today to journalists by the Deputy Prime Minister of Belarus Uladzimir Syamashka, BelaPAN.
"I can't say that everything in our relationship favorably. There are certain kickbacks. Themes common market without exemptions and exceptions of improper actions will be discussed on Monday, April 3, at the level of heads of States," – said Semashko.
Also, according to him, will discuss, "what needs to be done to create more favourable conditions for work without any discrimination".
As noted in the message, the end of 2015 between Minsk and Moscow does not address the question of cost, Russia supplied natural gas. The amount of the underpayment Russian officials already estimated at 600 million dollars. In this regard, Russia has significantly reduced oil supplies to Belarusian refineries.
However, Lukashenko at the meeting with the Armenian Ambassador said that he and Putin "brilliant relations".
"We will find a time to meet. If there are any problems, we will resolve them. Without intermediaries, we will decide, together, and we don't need no mediation. We are brothers, we have nothing to share. I told him once publicly said, maybe there will be a time when you have back to back be and shoot, well, as military people say," said the Belarusian President.
Meanwhile, Lukashenka failed to meet with Putin during a weeklong stay in Sochi during the second half of February, although in previous years such informal meetings in the Russian resort was conducted.
Not held a meeting of the Supreme Council of the Union state of Belarus and Russia, which was announced in February.
The last meeting between the presidents of Russia and Belarus was held on 22 November 2016 in Moscow.
In early February, Lukashenko said that Belarus has filed a lawsuit against the Russian Federation in connection with reduction of deliveries of Russian oil.
Russia's decision to equip the border area with Belarus, he called a violation of the interstate agreement on the border and a "political attack".
Earlier, the Ministry of foreign Affairs of Belarus said that Russia, without warning, decided on the establishment of border zones.
Comments
comments