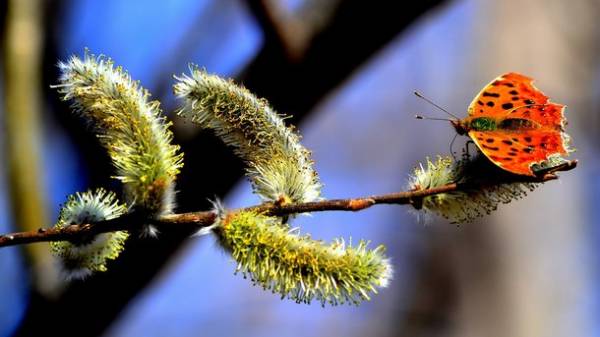 Holy week — sixth week of Great lent. Ends on palm Sunday, which occurs after Holy week. The principal public ceremonies of the week are associated with willow and fall on Saturday and Sunday.
Palm Sunday has no fixed date and is celebrated annually on different days. In 2017, Easter falls on April 16, therefore, palm Sunday falls on April 9.
According to the Scriptures, on palm Sunday the Son of God entered the Holy city of Jerusalem. Poet in the Orthodox Church this day is called in another way – Christ's Entry into Jerusalem.
Local residents who heard about the miracles of healing that Jesus was glorified, met him, arriving in town on a donkey, as befitted to meet the Messiah and ruler – made road green palm branches, sang songs and welcomed with shouts of "Hosanna!"
On palm Sunday hold vigil service, where sanctified willow twigs, for which you need the day before to go to the woods before sunrise.
Note that then these branches had great power: they protected the family from harm, deliver from sickness, damage and the evil eye, and house from fires and floods.
On palm Sunday the long-preserved tradition: to be healthy, people whip each other with willow branches. The beating is done usually in the morning, after the consecration of the willow, at Church or at home and, as a rule, with the sentence:
Willow red, beat to tears, be healthy! (Saratov, Russia.);
I'm not b Yu, willow b – / Per week — Easter; / Be a great Yak willow, / And health, UC water / And bogati, Yak land (Chernihiv.);
Warba b e — I b, u; / tizen — Waltzing. / Ailing from the forest, Veras, / And Staroe have costs. / Buzi zdero, Yak WADA, and rests, Yak Warba.
Most often the adults beat the kids "to grow and be healthy". With the same purpose everywhere gushing cattle.
According to Church regulations, Saturday and Sunday weeks Palm allowed the indulgence of lent: Lazarus Saturday permitted the eating of caviar, and on palm Sunday — fish, determined the composition of the traditional holiday table.
However, with Palm week, especially with the last days, there is so much to take on the weather and the next harvest: "If Holy week windy with morning — spring good will".
Earlier Today figured out, what day is celebrated on Annunciation day in 2017.
Comments
comments