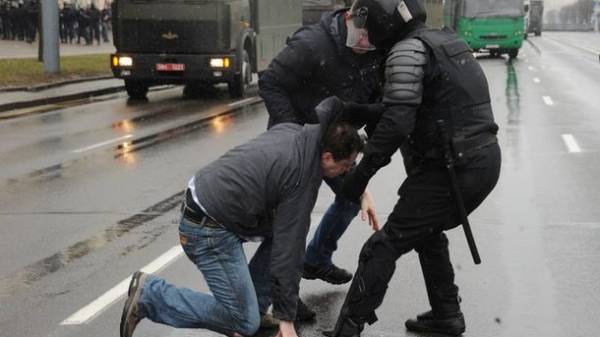 The Ukrainian Consul in Minsk (Belarus) checks of Ukrainian citizens among the detainees and the arrested participants of the protest action in Minsk on 25 March 2017, said head of the consular Department of consular service of the Ministry of foreign Affairs of Ukraine Vasily Kirilich.
"Consul, verified information regarding the possible presence in the detention Center for offenders and interacts with the courts regarding the clarification of information on the stay of citizens of Ukraine", – he said.
Kirilich said that the Consul has partnered with the detention center and detained citizens of Ukraine and in what quantity.
He also said that the specific data on detained and arrested yet.
Previously on "Radio Freedom" reported that in Belarus was sentenced to 15 days of arrest of the citizen of Ukraine Ruslan Tereshchenko, who was detained for participating in demonstrations on March 25. This decision was taken by the Leninsky district court of Minsk.
As reported, on March 25 in Minsk, the opposition tried to hold a rally on freedom Day, but pre-announced to the gathering place near the National Academy of Sciences were able to get mostly journalists. Potential participants were stopped by police cordons.
After that, thousands of activists began to move toward the center of Minsk from another place, but was soon stopped by the police, there was a mass detention of protesters.
The European Union and United States condemned the detention of the protesters in Minsk. In the previous days in different cities of Belarus were arrested about 300 people on both administrative and criminal cases.
Comments
comments