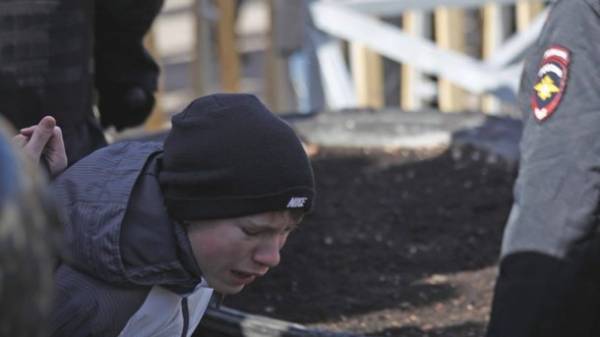 Press Secretary of the President of Russia Dmitry Peskov said that juvenile participants of protest actions in Moscow paid for it.
"There is information that the minor parties shares in Moscow in the event of their detention was souleles cash rewards. There is some evidence of this. If law enforcement agencies deem it necessary, confirmation of this will be available to the public," — said Peskov, reports "Rain".
He added that the Kremlin respected civic position of people and respect the right to Express it, but when it is in the format, "which is provided by the effective legislation".
"But we can't show the same respect for those who deliberately leads people astray, and who did it yesterday and the day before, provoking illegal actions. We can't respect those who consciously mislead minors, including children, promising, including some awards. And sometimes exposing their lives to danger", — he stressed.
As reported, the protests in Russia are connected with the publication of investigations of the Fund of struggle against corruption on undeclared property of the head of the government Dmitry Medvedev.
On Sunday, more than 30 thousand people took part in the anti-corruption actions across Russia, excluding Moscow and St. Petersburg. In Moscow, under the informal data, the share reached to 30 thousand people, according to police – 8 thousand, in St. Petersburg – from 5 to 10 thousand.
The number of people arrested at rallies in Moscow, according to the revised data, has reached more than a thousand people. Among the detainees are minors.
In turn, the US state Department has condemned the mass arrests at the anti-corruption actions, which took place yesterday in the Russian city.
Comments
comments