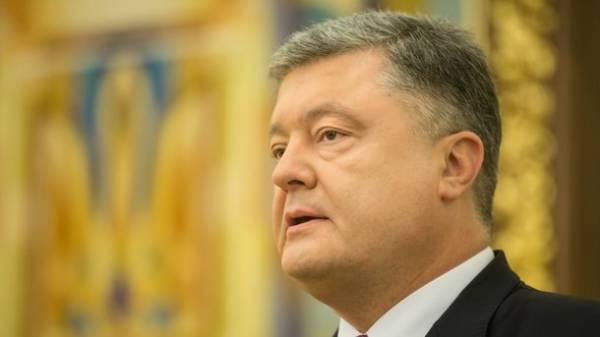 The President of Ukraine Petro Poroshenko said that the blockade of uncontrolled territories in Donbas, some deputies intended to push them away from Ukraine to Russia.
"The organizers of the blockade cheated society because it was not a blockade ORDO/ORLO – what a blockade when there is a hole in the border, including with the Russian Federation, hundreds of miles away? In fact, it was a special operation aimed to push the occupied territories of Ukrainian Donbas into the Russian Federation", – he said in a speech at the meeting of the regional development Council in Kyiv on Monday.
Poroshenko noted that the organizers of the blockade should be ready to take responsibility for their actions.
Earlier Prime Minister of Ukraine Volodymyr Groysman said that the transfer of the allocation of Ukraine tranche of the International monetary Fund caused by changes in the economic situation in the country due to the blockade on Donbass and became a new challenge for the government.
"(IMF postponed consideration of the issue of Ukraine) in order to evaluate and look at what the macroeconomic indicators will be in 2017", – said Groisman.
The Prime Minister reminded that, except for losses directly from the blockade, Ukraine at the Donbass lost businesses that pay taxes in Ukraine, as well as access to Ukrainian mineral resources on the uncontrolled territory. In this regard, the country will have to revise its forecast for economic growth, said the Prime Minister.
Comments
comments