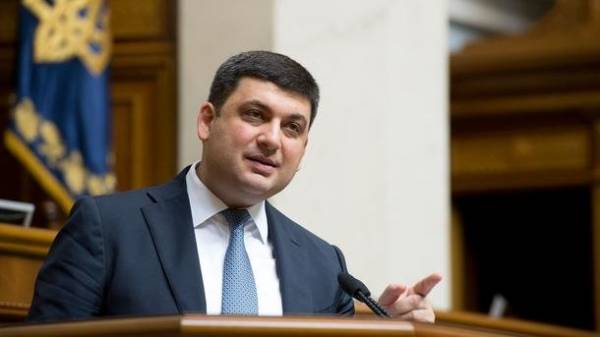 Prime Minister of Ukraine Volodymyr Groysman criticized the actions of the people's Deputy Vladimir parasiuk against law enforcement officers at the checkpoint under the Slavonic. He stated this during a meeting of the Cabinet.
"Imagine: there are Ukrainian soldiers who are fighting in the Donbass every day under fire, who know what war is, who for several years in such difficult conditions to protect our independence. They passed a lustration – all that could pass all the tests. They go on combat operations. And then pulls a face, endowed by the Constitution with immunity and begins to humiliate, offend, threaten. I watched the recording. Shouts: "I am the MP! I MP!" Offends, humiliates, threatens and shouts: "I am the MP, don't touch me!". I want to say that some "untouchable" in many cases, not worth no honor, nor conscience, nor the principles that are today's agenda for your life," – said Groisman.
The Prime Minister thanked the law enforcement officers that they did not allow provocations, and also said that everyone should be equal before the law.
"Absolutely everyone should be equal before the law: police and MPs, and the Prime Minister and Ministers. To be free, to be slaves of the law. And every MP must do it as an example for all others and not to hide behind its mandate, which is kind of like provides limitless immunity," – said Groisman.
As reported, in the night from 14 to 15 March, the law enforcers near Kramatorsk warning shots into the air detained a convoy of vehicles with citizens that have broken through Slavic checkpoint and caused injury to police officers.
Later, the police confirmed the participation on the fight near Slavyansk. In the result of a verbal altercation at the checkpoint there was a conflict in which the people's Deputy started striking blows to the police and tried to snatch weapons from the police.
Comments
comments