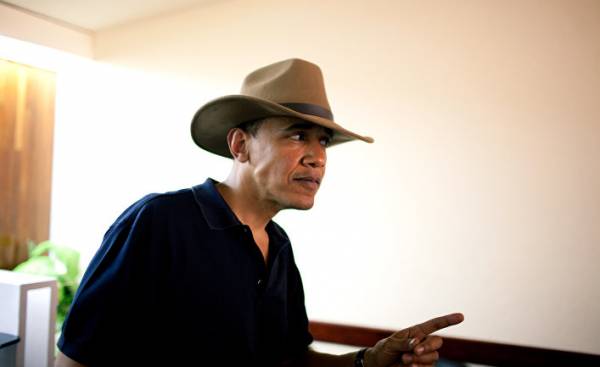 How often Barack Obama was admired for his sense of humor and some lightness, so often still made fun of him for the clothes he wears in his spare time. A particularly soft spot for former US President bears the ancient American "dad jeans".
These slightly flared pants worn too wide cut with high waist he once loved to wear combined with men's sandals or bombers large sizes. In the stands during a football match at school somewhere in the Midwest back of him and would not have noticed, but compared to his presidential limousine, he is very outstanding. Screams of horror about the casual, while still in power of the President sounded so often that in 2009 Obama was justified almost resentfully: "I am somewhat old-fashioned.
These jeans are comfortable. And those of you who want to see the President in tight jeans, I have to disappoint. I'm sorry, I'm not that guy". And Michelle Obama confirmed that her husband never really knew a lot about fashion.
This week the incredible surprise was a photo on which the former President appeared before us in a perfectly-chosen smart casual way: to visit the National gallery of art in Washington, Obama donned a fitted leather jacket, grey shirt and dark-bleached jeans — this is unbelievable — sitting on the ex-President not too loose and not too high. Really from the White house, he captured her stylist? Nevertheless, this picture produces a strange impression when you see the former President in this output outfit, unwittingly become confused.
If you regularly met a boss in a tracksuit to the supermarket during Saturday shopping, and it was in that moment, when you got accustomed to his frightening appearance, he suddenly appears at REWE in a suit made to order. Sometimes we know so little about the people who, invariably wearing the same uniforms, have been leading our country, departments, offices that our view of them we create, based on those few moments of personal life in which they fall to us in the eyes. That's why anyone would be confused, suddenly saw Angela Merkel in an evening dress with a deep neckline.
After all, we still recognized her pant suits and practical clothing for walks. "Dad jeans" Obama, Putin's naked torso, neck Merkel — these images shape our understanding of the influential people of this world and make it clear what the heads of state can be in an informal setting. Probably for this reason, Obama decided on a change of image.
In the end, the country is now run by a different person (with a much worse sense of style), and Obama can try on the role of elegantly-relaxed ex-President who has time for long shopping trips and a subscription to GQ.
Who else appears in this way: George Clooney, Nicolas Sarkozy, David Cameron.
He thinks Barack: as soon As I get home, finally change into his "dad jeans".
He thinks Michelle: I would Have to go out to eat, to not have so soon again to see him in "dad jeans".
Song: Hip Teens Don't Wear Blue Jeans — The Frank Popp Ensemble.
Comments
comments