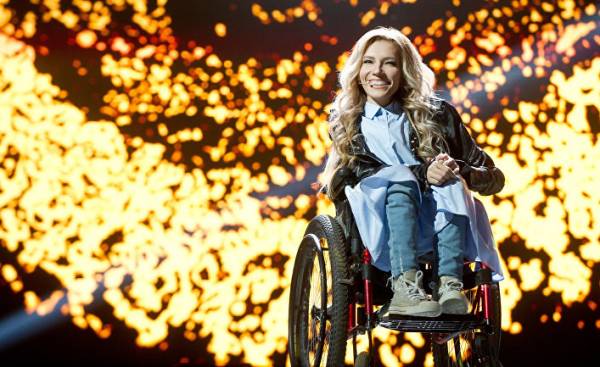 Russia decided to send to Eurovision-2017 in Kiev, Yulia Samoylova, who took part in organized by the occupiers concert in Kerch in June 2015. The singer, who since childhood has the first group disability and gets around in a wheelchair, needs to sing a song about love "Is the Flame Burning". Many say that an expression of support for the occupation of Crimea is enough to ensure that the security Service of Ukraine has banned her entry into Ukraine. The speaker of SBU Elena Gitlyanskaya on his Facebook page asked the media not to hurry, because the secret service is investigating the issue and "will take an informed decision as to its entry into the territory of Ukraine," based "solely on the norms of the Ukrainian legislation". About how to treat such a course of the Kremlin and the Ukraine to ban entry Samoilova "Apostrophe" says journalist muzhdabaev.
Russia sends in Kiev for Eurovision its citizen who knowingly illegally crossed the border of Ukraine, spitting on our sovereignty, acted in the occupied territory. I wanted to say Russia is absolutely clear. Russia was preparing for the scandal. Right after Jamal won the Eurovision song contest and it became clear that the competition will be held in Kiev, I declared that Russia necessarily to stage provocations. Russia uses not as Eurovision song contest, but as ideological platform in its hybrid war.
And here they are without any selection of appointed candidate Yulia Samoylova, cynically choosing a performer in a wheelchair, then to show the brutality of the Ukrainians will not accept. And she agreed to it herself. This is the complete moral decline of Putin's Russia both in humanitarian and in political terms. The choice of a girl who moves on a wheelchair for their normal propaganda move.
But Ukraine needs to be tough. Ukraine should not care what kind of person broke the law. There is a law, there is responsibility, there is provided procedures. No exceptions for anybody to do.
The only question that appeals to our authorities: they sent an official warning to the organizers of the competition — European Eurovision organizing Committee and the Russian organizing Committee, which would indicate that on the territory of Ukraine will not be allowed artists and journalists who visited the occupied territories? I'm a year ago talked about this. If this letter exists, I would ask him to publish it. And if not there, ask the official who had to officially make it a warning from Ukraine to explain why this was not done. And why Ukraine is now retroactively supposed to explain something? It was necessary to clearly stipulate that Russia was not initially be tempted to send a representative, which was in the territory of the occupied Crimea. It is logical to do. Then all these violations would be treated as a deliberate provocation. And now from Russia call me to comment on this topic, saying, "she could not know, it is far from politics," "she was invited — she's gone" and also — "are not you sorry for girl?" and other such arguments, designed to fool.
It was a mistake not to prevent a similar situation. Russia to do their dirty business makes. The question is: how do we in Ukraine build its information defense and why we allow ourselves to get into situations that can be eliminated in 10 minutes — drafting letter and send it in?
Comments
comments