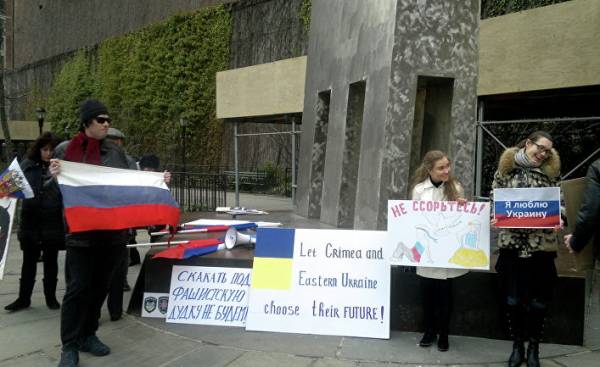 The vast majority of citizens of Ukraine identificeret themselves as Ukrainians. This is evidenced by published on Tuesday, July 11, the results of a survey conducted in may-June by the Gorshenin Institute jointly with the representative office of the Foundation. Friedrich Ebert Foundation in Ukraine and Belarus.
Ukrainians consider themselves to 92,6% of the population, 5.5 percent identified themselves as Russian, 3% — representatives of other nationalities. Thus, according to the census of 2001, Ukrainians and Russians themselves have identified 77.8% and 17.3% of Ukrainian citizens respectively.
81.8% of respondents consider themselves primarily as citizens of Ukraine, 6,3% — "citizens of the world", and 3,3% — "citizens of Europe". In addition, Ukraine is home to 5% of "citizens of the former USSR".
The majority of citizens of Ukraine is 60.4% — enjoy at home with the Ukrainian language. 37,8% speak mainly in Russian, and 1.6% — in other languages. Thus, the highest concentration of the population is Ukrainian-speaking West of the country, the majority of Russian native speakers live in the East and South of Ukraine.
In the Ukrainian language at home speak 96.5% of residents of Western Ukraine, which is 87.4% — in the center, 51,1% — in the North, 25,8% in the South and 23.4% in the East. At the same time, the predominantly Russian language used by 74.7% of the population in the East of 73.4% in the South, 43.7 per cent in the North, to 12.2% in Central and 3.1% in the West of Ukraine.
The study authors note that its results could be impacted by the fact that the survey was attended by residents of the annexed Crimea and the occupied districts of Donetsk and Lugansk regions.
The survey involved two thousand respondents in all regions of Ukraine except occupied territories of Crimea and Sevastopol, districts of Donetsk and Lugansk regions. Margin of error does not exceed 2.2%.
According to a survey conducted by leading sociological centers in the country (KIIS, Rating, SOTSIS and the Razumkov Center), the Ukrainian language as the main language of communication use of 50.5% of the citizens of Ukraine.
According to the survey, most Ukrainians who speak mostly in the Ukrainian language, live in the West (97,2%) and South West (91,6%) of the country.
At the same time, Russian language as the main language of everyday communication used by 24% of respondents. The same number of respondents (24%) said they speak Ukrainian and Russian languages.
Comments
comments