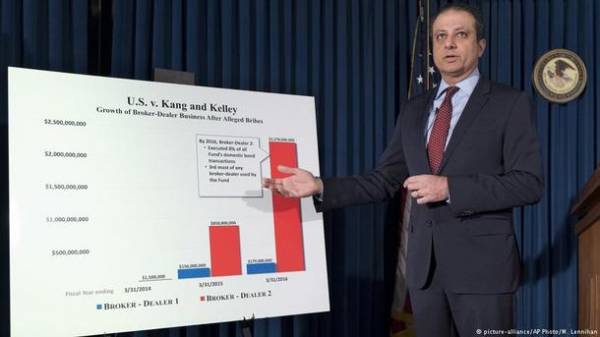 The Federal Prosecutor for the southern district of new York preet Bharara, previously refused the resignation at the request of the U.S. Department of justice, dismissed. This was reported by Deutsche Welle with reference to the Twitter of the Prosecutor.
"I have not resigned. A few minutes ago I was fired," wrote Bharara, adding that work on the post of the Prosecutor was for him "the greatest honor".
In the track record of the Prosecutor consisted of a number of resonant cases, including with Russia. He, in particular, acted for the prosecution in the case of Russian citizen Viktor bout, and subsequently sentenced to 25 years for arms trafficking.
Also to his credit – the case of the Russian pilot Konstantin Yaroshenko, who was convicted in the United States to 20 years in prison for conspiracy to smuggle five tons of cocaine. In addition, he directed the anti-corruption investigation related to illegal withdrawal from Russia of $ 230 million – fraud, which wrote the lawyer of Fund Hermitage Capital Sergey Magnitsky.
Attorney for the southern district of new York was the blacklister of Moscow, including "persons involved in violations of the rights and freedoms of Russian citizens abroad." He was denied entry to Russia.
On 11 March it was reported that U.S. attorney General Jeff sessions was asked to resign 46 Federal prosecutors, who were appointed to their positions the 44th President of the United States Barack Obama.
Bharara, however, to resign, refused, explaining that after the presidential election Donald trump, the new owner of the White house met with him and allegedly asked to continue performing the duties of the Prosecutor.
Comments
comments