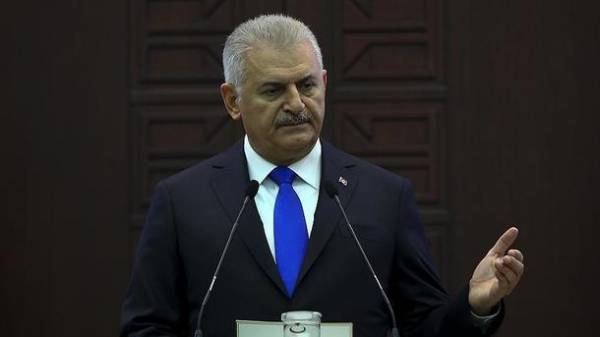 The Prime Minister of Turkey Binali Yildirim condemned the actions of the authorities of the Netherlands, by which the Minister of family and social policies of Turkey Fatma Betul saillant Kaye to enter the territory of the Turkish Consulate General in Rotterdam.
"We strongly protest against actions of the authorities of the Netherlands. The response of Ankara will be extremely hard. Pressure on Turkey and the Minister with diplomatic immunity, is unacceptable", — quotes the Yildirim Anadolu Agency.
The Prime Minister said that the Minister was in Europe with the aim to tell the Turks living there about the constitutional amendments submitted to referendum on April 16. According to him, the events in Rotterdam — "a large diplomatic incident".
Yildirim noted that, despite diplomatic efforts by Ankara to settle the question of the organization of the meeting the Turkish Minister with compatriots in Rotterdam and failed.
"Friends from Europe, who at every opportunity likes to talk about democracy and freedom of speech, eventually themselves showed a lack of respect to human rights", — said the Prime Minister.
He called on Turks living in the Netherlands, for peace of mind. "The members of the Turkish Diaspora should not succumb to provocations. The best answer for this kind of fascist methods will be a referendum on 16 April," he added.
We will remind, the Dutch authorities decided to expel the Turkish Minister for family Affairs, Fatma Betul Saiyan Kai, as her visit threatened public order on the background of aggravation of Dutch-Turkish relations.
As reported, the Turkish delegation arrived in Rotterdam in the evening, but were unable to get into the Embassy because the police blocked approaches to it.
It is worth noting that the Minister Kai in any case could not speak at the rally at the Embassy, where she is headed, as before the police with dogs dispersed the protesters.
Earlier on Saturday, the Netherlands has banned a Charter flight, the foreign Minister of Turkey, who intended to hold a propaganda meeting with Turks living in Rotterdam, on the eve of the constitutional referendum.
Comments
comments