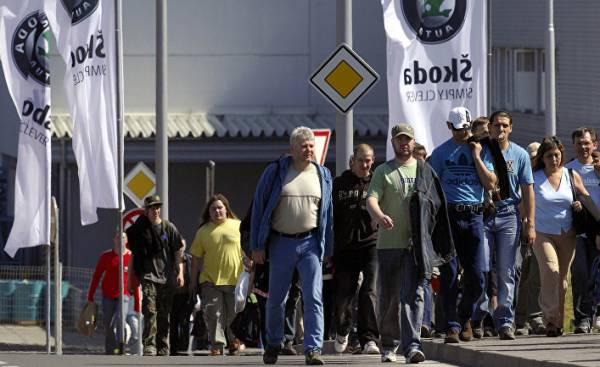 On 9 and 10 March is the European summit on the state of the economy on the continent, and the head of the European Commission calls on member States to maintain openness to trade, simultaneously taking measures against unfair trade practices.
Gathered in Brussels today, EU leaders will summarize the common European efforts to create jobs, stimulate economic growth and competitiveness. European industry can play in this regard a crucial role because it represents the first economic activity in Europe, which accounts for 20% of value added and 15% of employment.
My father was a proud ironworker. As in many other regions of Europe, the plant was the Foundation of our communities, the main employer and driving force of the local economy.
Today, the factories are not similar to those that were in my father's time. Whatever it was, it does not diminish the importance of the European industry. It industry leaders global markets. They are more than 50 million people across Europe. They are rich in entrepreneurs and brilliant innovators who know how to use the new features.
The strength of our industry has always been the ability to adapt and innovate. In a rapidly changing global competitive environment we need to bet on our strengths: a huge hotbed of talent, well-educated workforce, a tradition of innovation and, more importantly, a single market of 500 million consumers. To reduce costs and dependence on suppliers from third countries our plants have to be leaders in the field of clean technologies and energy efficiency. They should use the opportunities that were opened by the abolition of traditional boundaries between goods, services and digital economy. We need to work together to invest in people, to enable them to obtain the necessary skills for rapidly changing working environment, to give them social rights, which would be adapted to the changing patterns of employment. Our regions and old industrial sites must be reoriented, but not only for the construction of prestigious housing and new jobs for local residents.
Industrial strategy the European Commission supports the transition to a modern, sustainable and equitable economy through the global and results-focused approach on many fields.
Our industry needs to take full advantage of her proposed EU investment opportunities, including in the framework of the investment plan for Europe, which some dubbed the "Juncker plan". He allowed the region Nord-Pas-de-Calais to receive financial support in the transition to economy with low CO2 emissions. He helped Polish metallurgy to generate new services and jobs. He supported the construction of a new plant of organic products in Finland and the first European centre of processing of titanium. As for 3D printing, bioplastics and reducing water use in the chemical industry, the EU will continue to invest in European innovative industry.
Anyway, we're still going to need foreign investment. This means that we remain open to trade, and that foreign markets also remain open to European companies.
However, I'm not naive advocate of free trade. We will continue to demonstrate strong commitment to combat unfair trade practices, as it was with the introduction of anti-dumping measures on Chinese steel, Thai corn and biofuels from the US, Indonesia and Argentina. In addition, we will continue to use the outdoor opportunities legislation in the field of state aid for the support of scientific research and "green" investments. Finally, we are not going to rely on the US, China and Russia, and we will approve our strategic independence and industrial power in the defence and space sectors.
Times more than 50% of EU businesses are an integral part of world trade chains that a return to isolationism and protectionism may not be an option. Our industry and economy depend on an open, equitable and sustainable world trade. Take the recent trade agreement with Canada, one of our closest partners. It is the most progressive of all that has ever signed, and probably many things will change: export to Canada supports 900 thousand jobs in Europe, and the abolition of customs duties will allow companies to save up to 500 million euros per year.
Last week I presented a strategy for the future of Europe, which represents the different ways of preserving our unity, composed of 27 members. I hope that we will be able to hold on to that through a Frank and open discussion of the extent to which Europe can and should support the industry and control globalization, including in the areas of budget, education and social policy.
For me is very clear one thing: I don't see any scenario in which economic nationalism would be compatible with our idea of Europe and the prosperity of its population. I believe in a Europe that is based on the General robust industrial policy that serves a success even in hard times. Such a policy has a Central place in Europe, for which I fight.
Comments
comments