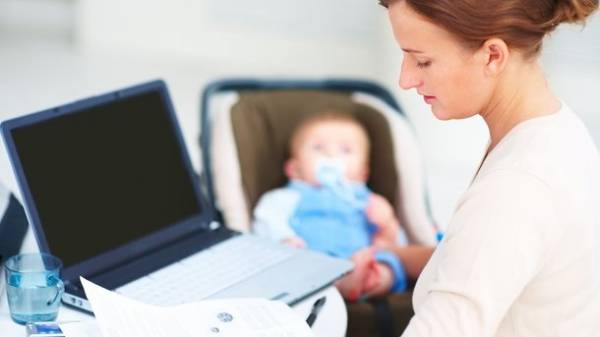 According to a survey of personnel portal rabota.ua 53% of employers fear that during maternity leave the employee loses his qualification. Only two thirds of the women who went on maternity leave in the last 5 years, claim that the employer has formalised maternity leave and released in due course according to the law, the Research center of International HR portal hh.ua (many dismissed "at own will").
In connection with this, the expectant mother, who cherishes her career, the question is: how to respect a mother's duty, but not to lose the professionalism and the workplace, and after the break is painless to get back to the office in good working order?
KEEP OURSELVES IN GOOD SHAPE WITH THE HELP OF FREELANCING
To maintain proficiency in the home is only a regular inclusion in the work. Suitable for both freelance and udalenke. "It's important to periodically perform a real simple task, every day or at least three times a week," advises Marina Litvinova, a specialist in corporate e-learning. Best of all, according to Victoria Baban, head of the recruitment Agency Golden Staff to establish remote work with your company today so you can work, for example, an accountant, a lawyer, a marketer, and journalist.
"It is believed that the woman is hard to adapt to work after a two year break. So do not hold the work myself for so long: it is enough to devote an hour or two a day to stay in shape. Very good to negotiate, to take your place no one took, they say, I'll be back soon, in the meantime, the division of responsibilities to colleagues. Try as much as possible to participate in the process agree to advise the beginner, take at least the minimum scope of work, albeit 5% — so lost the connection to the company and the qualifications," recommends the expert.
And then by the time you are cheerful and confident technician, who also showed loyalty to the company.
"But long-term training at home to maintain professionalism requires a huge motivation, — said Litvinov. In my opinion, learning enough for a couple of weeks, a month. Maybe more if you study in a group or on the course application with the intermediate control. To have motivation, you need to regularly record the results of their efforts, and this requires practice."
ALL OF THE OPTIONS. Maternity leave mom can start back to work gradually, without the bustle and chronic stress, I'm sure an HR expert rabota.ua Tatyana Pashkina.
"Proposals for remote work — almost 3,000 in the last 30 days. Without departing from the house you can work with the operator of the contact center, distribution Manager, editor, news, marketer, Executive assistant, travel Manager, copywriter, litigation, a recruiter, a marketer, a programmer," she says.
Wages employers offer decent: price range from 3-4 thousand UAH for simple work or work in small towns up to 15 thousand UAH — for professionals with experience and knowledge of foreign languages. There are options and part-time employment, when you work shifts, for example by the seller, or even a few hours a week in the gym instructor. By the way, do not think that many employers are prejudiced against parents with young children: "Many say that young mothers are more diligent, hardworking, have patience and work well in a multitasking mode," explains Pashkina.
WHEN TO GO
When you go to the "mother" 30, it has achievements and decree is just a small step back. A graduate of the University, immediately after graduation — vacation in 25 starts at the level of the students and actually lose 5 years of potential careers. So ideally, I think personnel officers, the decree need to have the experience, otherwise you'll have to start from scratch: Secretary, administrator or sales assistant.
"Without experience it's difficult to get, and having a small child — twice", — says Victoria.
OPINION OF THE PSYCHOLOGIST
Irina Baeva, adolescent and family psychologist, coach, art therapist, master of neuro-linguistic programming
Its purpose. Having gone to the world absolutely other cares, it's time to ask yourself: do you your place as a professional? And only answering it, allow time to work. If it improves life, you are happy, inspired their self-cultivation, filled with positivity and radiate it to the child and husband — go ahead. Otherwise, to steal while the baby makes no sense.
Flexibility of thinking and behaviour. Do not put yourself clear plans: plan something specific at the beginning of the maternity leave — it is difficult and even pointless. To not have to blame themselves for failure, learn flexibility. Allow yourself at first to break away from work and give the child what he needs. After all, later he will give you much more time to develop than when you tried to break.
Pull up "tails." Use maternity leave to devote time to spaces that previously lacked the time to learn something related and applied. New status often opens us to new needs and even abilities, it's important to listen to them.
Praise yourself. For every small step and effort. After all, you managed, for example, do not hang in the recovery after childbirth, total dependence, and the revaluation of values (and the temptation was great!), and go to your goal, even at the pace of an ant.
Remember the meaning. It is important to keep your goal in focus. Even if during the day to do anything not work out, be sure to dream about her before going to sleep, zaprogrammirovat on a more fruitful tomorrow.
Visualization. For women is more important than any words that she sees in the mirror. Use cases when you need a makeover, and wear office attire. It will support emotional connection with another business life. Also help to be pampered and at the same time to keep the figure under control.
Important dates. Mark in the calendar the birthdays of colleagues (at least those with whom you get along) and do not be lazy to congratulate them. You need it more than them, so part of consciousness you will be constantly in the workplace. Yes, and a good relationship save, will be aware of recent events.
Comments
comments