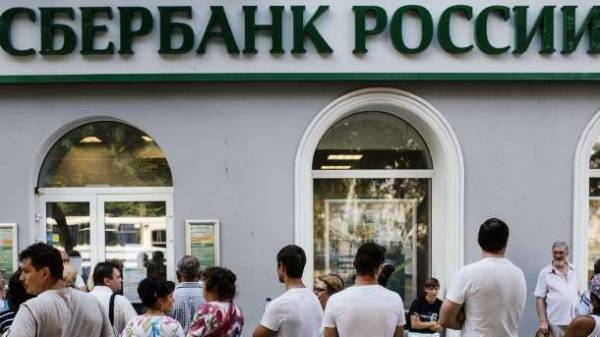 Activists blockade of Donbass has called on the Ukrainian authorities and to take appropriate measures in respect of "Sberbank of Russia" in Ukraine, or they will block the work of the Bank throughout Ukraine. This was stated by the TV channel NewsOne coordinator "Staff blockade of trade with the occupiers" Anatoly Vinogrodsky.
According to him, the activists were given two weeks politicians to deal with the situation and to "cover up" the Russian Bank.
"We demand from the national Bank, General Prosecutor's office and the Verkhovna Rada in two weeks to adopt a law on the confiscation of property of the Bank on the territory of Ukraine, to take measures to protect and prevent the export of money from the banking system of Ukraine", – said Vinogradskiy.
He noted that, if the politicians will not solve this issue, the blockade after two weeks, they themselves will…
"In two weeks all of the staffs of the blockade in the regions will be given the command to block the activity of the Bank. If this is not done, the headquarters of the blockade would take all the statements of the Cabinet of Ministers about the imminent closing of "Sberbank" public relations", – he told.
Vinogradsky said that Bank depositors have no more than two weeks to pick out their money.
We will remind, as it became known on March 7, the Russian "Sberbank" has agreed to serve customers with unrecognized by the international community and Ukraine "passports" so-called "DNR" and "LNR".
In turn, the Minister of internal Affairs Arsen Avakov criticized the actions of the Russian "Sberbank". He said that after that, the Bank can't work in Ukraine and urged the NBU to impose sanctions.
"The question is how much time the National Bank of Ukraine to impose sanctions in respect of "Sberbank of Russia" operating in Ukraine? Consider the immediate reaction of the NBU. Sberbank of Russia must end its work in Ukraine. Let them enjoy a "financial Paradise" for the laws of self-proclaimed "DNR" and "LNR", – Avakov wrote.
Comments
comments