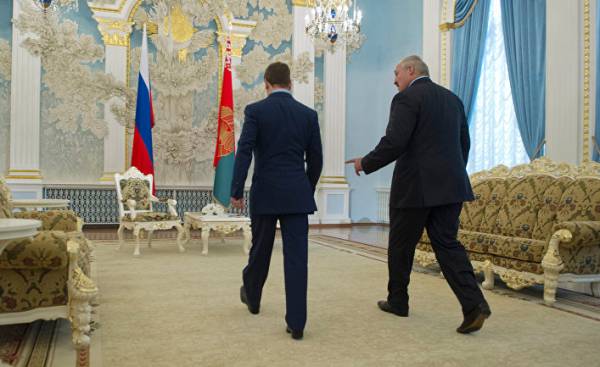 Accounting should not be the basis of the Belarusian-Russian relations. This position was stated by Alexander Lukashenko at the March 9th meeting on topical issues of development of the country, the press service of the head of state.
At the beginning of the meeting Lukashenko demanded to report to him about cooperation with Russia, especially given the recently held in Bishkek intergovernmental meetings in the framework of the Eurasian economic Union.
"I, of course, in General terms, familiar. I was most surprised by the statements of my inveterate friend of Medvedev, — said the head of state. — We are already starting to scare that the natural gas we buy at European prices. The type that will not pay $ 150, and 200. You know, akin to that a hint of all — first of all, Russia and Belarus — that we are freeloaders in Russia: behold, see, we are doing a gift".
"I don't want to delve into details, but Medvedev must understand that if we pay in Europe, for something he, too, will have to pay. And the price will be enormously higher than the price of natural gas. It seemed to me, and I think so far, and probably the vast majority of the Russian people and Russians think and understand that our relationship with Russia is not accounting. Accounting here and the price of natural gas, which belongs to Medvedev, should not be the basis of our relations," — said the official leader.
According to him, the basis of the Belarusian-Russian relations is "something more." "And to appreciate these relationships, it is necessary to leave in the middle of the last century, when we a third of the population rely on, you know what. But if someone wants to escalate the situation and once again instead of solving issues we blame, will not work" — said Lukashenko.
The head of state clearly outlined what she wants Belarus to the settlement of oil and gas relations.
"I will say very briefly and clearly what we want: any of the low prices we do not want gas. We need the leadership of the brotherly Russia fulfilled its obligations. In content and in spirit. If we are building our Union — United state we made the decision to build, that our people and businesses, the business should be equal conditions on the market. All we want nothing else", — said the President.
"If someone clever out there thinks we can always be tilted and put on the knees, this will not" — said Lukashenko.
Comments
comments