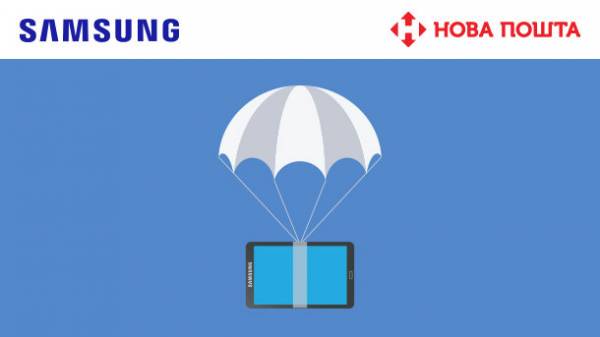 Now to appreciate the convenience and benefits service will be able every citizen of Ukraine
A new type of service from the company "Samsung Electronics Ukraine" and the company "Nova poshta" called "Pick-Up service" has spread all over the country. Now to repair their devices to the official Samsung service centers will be able for each user on the territory of Ukraine*.
Thanks to close cooperation of "Samsung Electronics Ukraine" and the company "Nova poshta" on the Ukrainian market a new service "Pick-Up service". Idea services is very simple: if the client has any problems using Samsung products, to smuggle the device in authorized service center free of charge at any branch of the "Nova poshta". It is sufficient to apply on the website or by phone. Send for this service can be smartphones, tablets and other wearable devices.
"We are very pleased to be able to run "Pick-Up service" on the territory of Ukraine, — says Alexei Roman, head of service Department of "Samsung Electronics Ukraine". The service worked in trial mode only for several months, but the user feedback about the conference confirmed the convenience and uniqueness of this service. The company will continue to make every effort in order to delight the users of such innovations and quality service".
"Now in the offices of "Nova poshta" takes on new advantages throughout Ukraine. If before we could receive or send a parcel, book a courier service, make money transfers, and now we undertake delivery to repair of the Samsung devices, whether smartphone, tablet or smart watch. We offer more service than he was accustomed to in the Department of "Nova poshta", because we see customer service for additional capacity," — said Maxim Rabinovich, Director for development of the "Nova poshta".
Service "Pick-Up service" simple to use. It is necessary to visit the nearest branch of the "Nova poshta" or call the hotline "Samsung Electronics Ukraine" on 0800502000 number for the courier.
Service Samsung devices is free and subject to use not only for warranty but for out of warranty cases. The last repair will be carried out only after the service center will negotiate the cost of the work with the client. After details return shipping the Samsung will send the device at the specified address and the customer in a convenient time. The duration of services averages 3 days.
Samsung always cares about its customers and applies to the task with professionalism. In recognition of the company for several years in a row awarded the title of "Service of home appliances of the year" in the framework of the International festival-contest "choice of the year". Samsung always ready to provide quality service and service network of the company consists of 115 authorized centers and is the largest in Ukraine.
*More about the service on the website http://www.samsung.com/ua/nova-poshta/, the service is not available in the territory of the ATO and the Autonomous Republic of Crimea.
Comments
comments