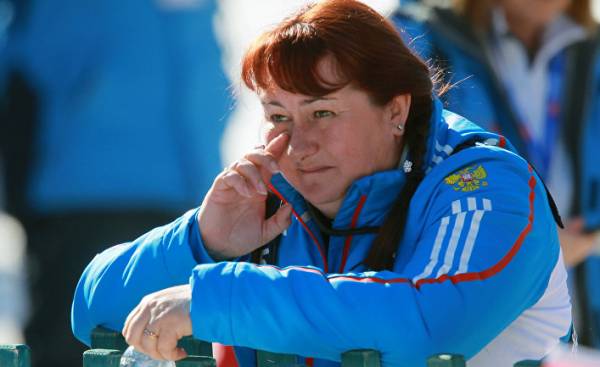 "Vladimir Putin? No, he's not coming. Fortunately. Because then the skiers will be nervous."
48-summer Elena Vyalbe smiling broadly. Her t-shirt with a huge portrait of President Vladimir Putin and the text "Putin — # 1 in Russia".
On mobile phone it as a screensaver a photo of Putin.
— And Putin you say anything?
"Yes, he congratulated us!"
"We are funded by the Ministry of sports. It is almost the old Soviet system. She's better than all the others, I think so. Then you know what to expect. And you don't have to constantly look for sponsors," — says the President of the Russian Federation of ski racing and coach. Elena Vyalbe has concentrated all power in his hands. To this we shall return…
Correspondents VG meet Elena Vyalbe at the hotel "Scandic" in Vierumäki, where Finnish sports which not only offers athletes the highest echelon. Maybe it's a little similar to what Russians call the "base", "training center", but this one is ultra-modern. Elena Vyalbe like it here. Because while the world Cup ski races — the time when dreams come true Russian. Sergey Ustyugov won the race at 30 km, together with Nikita Kryukov he took gold in the team sprint and in the sprint came in second after Federico Pellegrino.
"We are well prepared"
— Why are you all so good at here in Lahti?
"We are strong… We are well prepared".
Elena Vyalbe was the Queen of the world Championship in Trondheim 20 years ago. After her teammate Lyubov Yegorova was caught doping, Vyalbe took gold in all five ski racing that existed then for women. Now, in Lahti, the Russian is also not too good. Six drivers suspended because of the report of McLaren.
— Can we say that "medal haul" here in Lahti in the current situation especially important for Russian sport?
"Success for all is important, even for Norway. Norway two gold, isn't it? No, three… anyway, it's great. Everyone wants to taste the sweet life. We also have young skiers, who have shown themselves here. Alexander Bolshunov well made in the 30-kilometer race, Julia belorusova manifested itself in the team sprint. I believe that both of them are very promising."
— How did you react when it became clear that the international arbitration sports court (CAS) has banned to participate in the world Championship Alexander Legkov, Maxim Vylegzhanin, Alexei Petukhov and others?
"At first it was for us a real tragedy. Probably the same as the verdict in the case Johaug of Norway. We were disappointed. But that's life. What to do? I'm glad WADA admitted that the report of McLaren there is no evidence of doping. But we, of course, very disappointed. Ustyugov also participated in the Olympics, but luckily only in the sprint. I hope that all of these six will be ready for the Olympic games next year. I would be genuinely happy".
— And you can guarantee that the Russian team "clean" here, on this world Cup?
"Can! We at the Olympics in Sochi was clean. Don't forget, we had only one "gold" — Alexander the passenger cars".
— Have you heard anything about the Norwegian report about asthma?
"No, I never the Internet do not read! Only what is absolutely necessary. But I know that Bergen, and Sundby, and other Norwegians train an incredible amount. And sorry to hear that Petter Northug said of Matveeva," says Vyalbe. And staring us in the face.
"Everyone can make mistakes"
She is referring to the statement of Northug after a collision in the semi-finals in the sprint between Stino Nilsson and Natalia Matveeva, which was previously accused of doping. Northug said erythropoietin "Scam at the highest level" and that the athletes who did have nothing to do at competitions of such level.
"She was disqualified and had served his sentence. Errors can do all things. I appreciate Northug and respect him. But I don't like war. I don't like when sports turns into a war. We all have problems, like Norway, with cases Johaug and Sundby".
— What do you think about the fact that the Norwegians use asthma drugs?
"They are not only Norwegians use".
— And you, too?
"Yes, one or two people take. Other countries do, for example, Switzerland and France".
Elena Vyalbe becomes interesting. She says:
"I think it would be great if illicit drugs did not make exceptions. Then the sport would be clean. To make exceptions — it means to legalize drugs. I see that people like Michael Phelps and Serena Williams, made an exception… Nothing good about it".
— And could you explain what you mean?
"In sports should be healthy. But patients should be first to recover."
— Do you think, Vladimir Putin, who once said, "If you are healthy, you should participate in the Paralympics"?
"Yes, I totally agree with that! When our skiers are sick, I say that we are not the infirmary, that we will only participate well."
She was sorry for Johaug
Vyalbe smiles:
"Fortunately, I have the most asthma no. And I think that Justyna Kowalczyk is something there, when she talks about Norway as a country very healthy people — why, then, among the racers so a lot of asthmatics? I do not know. I'm not an expert. And there is no evidence that they run on the slopes faster."
— What do you think about the case Johaug?
"I feel sorry for her. It's awful. I feel sorry for her. I thought I would do that only we, the Russian… unfortunately, not just us."
We start talking about the German coach Markus Cramer, to which autumn has passed Ustyugov once removed from their former coaches, the Duo of Burgermeister Reto (Reto Burgermeister) and Knute Isabel (Isabel Knauthe).
— Ustyugov said that Kramer meant a lot…
"In order to raise a rider of this level, one season is not enough, so most of the credit belongs to his former coaches, but Kramer did a wonderful job before the world Cup".
And Ustyugov said that Kramer understands it better…
"When the coach understands the skier, then the result will be good. Athletes are people too, not robots and not soldiers. I absolutely agree with Sergei".
— How would you describe Sergey Ustyugov?
"He's got everything. He has character, he is strong, motivated, and has a head on his shoulders. The latter is important. By the way, I see that Norway also will be a new super-racer?"
— Johannes Chestnut The Kleb (Johannes Høsflot Klæbo)?
"Yes, he will be very good."
— You — coach…
"You so dread to say it…"
— Horror?
"Yes, and I know that everyone is afraid of me".
— Afraid?
"Well, Yes, the whole team's scared of me".
Why?
"Probably because I'm evil".
We understand that we politely put, and thank you for the interview. In the eyes of Vyalbe barely noticeable spark when she tells us goodbye:
"I hope you're gonna write me up!"
Comments
comments