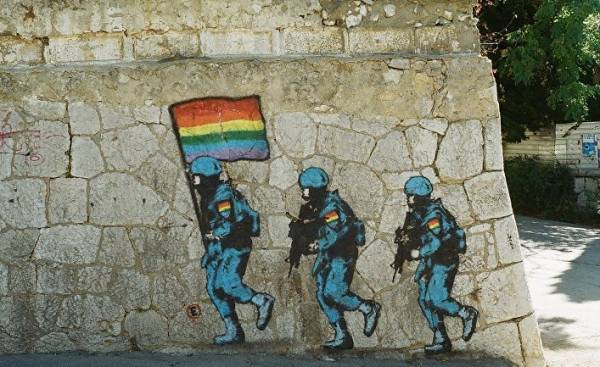 Expressen reporter Diamant salihu (Diamant Salihu) and Hilmarsson photographer Kristoffer (Christoffer Hjalmarsson) tell about events from the place of forgotten European war.
First, second, third, fourth and fifth parts of the report.
Donetsk, February 17, middle of the day
In Ukraine there is a war of propaganda.
Both parties are daily shooting at each other. And not always the case that "they started it".
Daniel Bessonov at least honest. The speaker of the Ministry of defense of the Donetsk people's Republic says that we should not trust any information we get about the war, even the one that comes with its own side.
In the Donetsk restaurant "Legend", whose interior is decorated with wooden elements, sit journalists from Russia and the military of the rebel Donetsk people's Republic. During the most severe fighting in the autumn of 2014 and spring of 2015 was not available. As only the battle raged, journalists could quickly know where to go to report.
February 2017 calmer, but still we come here to meet up with Daniel by Bessonov, a short-haired man of about 30. A green-black camouflage uniform with patches, the holster is the gun.
In the spring of 2014, when the East of Ukraine became anxious, he left his native city of Kiev and joined the rebels, so that, as he says himself, "to defend their country and the truth." Daniel Bessonov participated in all significant battles, and now he is the speaker of the Ministry of defense of the Donetsk Republic.
"The new government of Ukraine — Poroshenko — they are puppets. They do not themselves decide," he begins.
He sits, leaning forward, his eyes hard, his hands lying on the table.
The last fierce battle that attracted international attention, took place during the week along the front lines in Avdiivka, a town under the control of the government and an important transport node at a distance of just over 20 kilometers from Donetsk.
For seven days they bombed a residential building in Donetsk, to cause reaction of the EU, argues Daniel Bessonov and calls it a "provocation."
"Ukraine is planning a larger promotion. We see it and our security too. Civil on the other hand tell us about the movements of larger artillery systems and tanks."
Donetsk sees several reasons for provocations.
"Ukraine is bombing civilian buildings on our side in order to provoke the soldiers of the DPR to violate the Minsk agreements, then they will have a reason to come in here with all the troops".
When the bombing of a residential building among the residents of Donetsk there is a growing hatred, he explains. They require to respond to aggression. If no response follows, begins the criticism and discontent with the current government of the Republic that undermines the separatist Republic from the inside.
We tell that his eyes saw large holes in residential buildings, for example, in the plant, and ask whether the DNI is not responsible for the attack.
Daniel Bessonov served forward slightly and bows his head to the right and a friendly but firm voice responds.
"You don't have to rely on our information. You should not rely on the Ukrainian information," he says, and indulges in lengthy explanations, arguing that the Ukrainian government is hiding artillery and armored personnel carriers among the houses.
"Would they hide their artillery in civilian buildings, if I knew that we can get to her?"
He claims that the Donetsk Republic has soldiers from the local along the front line.
"Many of our soldiers themselves of those places, where now runs the front and there are Ukrainian troops. We sent them back and because they know the terrain and how things are there. Why our soldiers shoot at the house where they grew up, or risk killing their own relatives or friends who have stayed there?"
He accuses the volunteer groups of the extreme right wing of the party "Right sector" (banned in Russia — approx. TRANS.) and former assault battalions "Azov" and "Aydar" that they continue to conduct operations that affect the Ukrainian part of the front.
"In these groups a lot of fighters from the Western Ukraine. They don't care about the people who live in Avdeevka, Mariupol, Ilovaisk. They hate the Donbass, and they have no relatives and friends on both sides of the front of our soldiers."
Almost all Ukrainian soldiers with whom we spoke, are convinced that they are fighting against the Russian army.
Daniel Bessonov retorted: "I was born in Kiev and came here in April 2014. Been here since day one. I swear I've never seen Russian troops. Volunteers from Russia, Yes, but the Russian troops — no. I'm not lying!"
"Maybe someone saw it, but I'm not. I wish we were helped by Russian troops, my friends and also would like. We all want the war ended. If Russia came here, the war would cease in two days. Russia has good weapons, good fighters. Yes, they are here to go, and it is not required, they can break the defense of Ukraine from the air," he adds.
Expressen: Ukrainian soldiers believe that you never would have lasted so long without the supply of weapons from Russia. How can you comment?
The speaker of the Ministry of defense Daniel Bessonov sighs and quickly gives another explanation. He argues that the weapons, ammunition and combat vehicles were captured as a result of the defeat of Ukrainian regular troops in the beginning of the conflict.
"The fact that we took enough for two or three wars. In several regions, the control of which we received was, besides, a private military base with plenty of weapons. We can do without outside assistance".
He denies that the rebels shot down Malaysia Airlines flight MH17 over Eastern Ukraine, killing 198 people. Investigation in the Netherlands showed that the plane was shot down by Russian-made missile complex "Buk".
According to the investigation, the complex came to Eastern Ukraine from Russia, and the missile was fired from territory controlled by separatists, after which the weapons on the same day, went back to Russia.
Russia has called the investigation "biased and politically motivated". She has consistently denied its involvement in the conflict. The Russian Ministry of defence has published radar data that, in his opinion, prove that no missile is not flying in the direction of MH17 from the Snow village, where presumably fired from anti-aircraft complex.
Daniel Bezsonov is the explanation.
"At that time the region had a lot of systems "Buk". There were Ukrainian troops. Secondly, why the Dutch investigators took two years to tell? Why they could not give an answer in a month? Perhaps they were just looking for reasons that would be at the hands of Ukrainian government."
Kyiv, February 17, evening
When the doctor Vlad, 47, lived in Donetsk, he told a friend that lives together with her half-brother.
Becoming an IDP, he tells Kiev colleagues that his wife and son remained in Donetsk to keep an eye on the house.
It's all a lie.
We met with people who are in the shadow of war fighting against hate, threats and violence motivated by deep-rooted homophobia.
After many years of clandestine struggle of the Ukrainian LGBT community wants to expand their rights. The path to change is through the Eurovision song contest.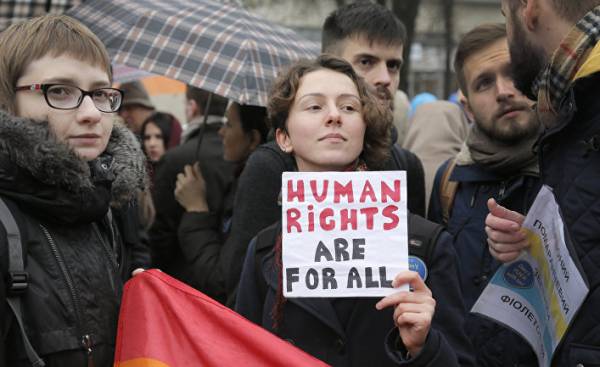 © AP Photo, Efrem LukatskyМитинг LGBT activists outside the Verkhovna Rada in Kiev
For the countless steel doors in the suburbs of Kiev is a shelter-refuge for LGBT people.
Living here just six people. They can stay in the shelter for three months and then have to make room for other refugees from small Ukrainian cities, where lost jobs or have been put out of home by parents, or subjected to violence, threats and abuse due to the fact that they are not heterosexual.
47-year-old doctor Vlad left Donetsk a year ago. He had no choice. There he could not find work and had to keep the house and buy gasoline for the car. The economy of the separatist Donetsk Republic really suffered due to the trade blockade of Ukraine.
Kicked out of cafes
Vlad left his partner, coeval with a disabled child from a previous relationship with a woman.
Officially, partner, Vlad — his half-brother.
"Ukraine can speak openly about his homosexuality, but then you can beat or even kill," says Vlad.
This he knows firsthand, he is survived. Once in Donetsk threw him out of the cafes on the street a group of young kids.
"They asked if I was a faggot. I said, "of course not"".
Young men beat him and kicked him until he lost consciousness.
Lives in a shelter
Once in Kiev on the street Vlad took his former partner's hand. The police followed them and arrested the two during the interrogation, began to ask homosexuals whether they. Otherwise, why hold hands?
"I said I was afraid of slipping. And it was the middle of summer," says Vlad.
Now he is temporarily living in a shelter-a shelter because he had no money to another housing. Working as a teacher in medical school, he earns an amount corresponding to less than 900 kroons per month. Renting an apartment is not enough.
He's the oldest here. Roommates, rooms which are crammed with sofas and single beds, with five younger gay men, and transgender people.
Anna Skorobogatko 18, she arrived from Lviv, in Western Ukraine. Mom kicked her out of the house when she said that she wanted to undergo gormonalnoe therapy to change their sex. She was born a boy.
Antonina became Anton
Anton Makarsky, 19, whose passport name is Antonina, with the help of hormones has already received a lower voice. He is dressed in a plaid shirt and wide jeans tucked. He lives at a shelter until I found a new job. Previously, he worked as a bartender and waiter, but the Manager forced him out when he said that started the process of becoming a man.
The chief began to call him "it" and "hermaphrodite".
"He didn't want "it" continued to work in his cafe."
About his father we know nothing. My mother lives in Hungary. When Anton called her and reported everything he said he wants to see her mom replied, "Young man, you are not to call me again." And hung up.
Go to a gay pride parade — risking your life
Gay Ivan Panov, 23 years old, came from a small town ten kilometers from Kiev. He fled to a shelter after two classmates hacked into his account on the Dating site. Intimate correspondence has spread in his hometown. He was mocked at the Institute, on the streets, and two months ago, badly beaten, when he returned to visit her mother. When he attempted to submit a statement to the police, the police refused to register the case as a crime of hate.
"What do you want? You're alive," said the policeman.
Vanya is an open homosexual and in the past two years and participates in Kiev's gay pride parade, even though it means risk to life. Only about a thousand people dared to go to the last parade, and they were guarded by six thousand police officers. Vanya sank into a chair. He is most afraid of right-wing extremists and soldiers returning from war. There are certain streets near Independence Square where more than just homophobia.
"Right-wing extremists in Ukraine put on geosafari. If they find us, then beaten. I'm afraid they're going to kill someone".
"If I was holding the hand of her friend on Khreshchatyk, they would have definitely stopped, would ask what it is we are doing and said that we have confused Ukraine with Europe and the United States."
Narodoizbrannogo politicians make homophobic statements
In an inconspicuous area in the center of Kiev there is an office of the LGBT organization Insight. What Insight has organized this orphanage. The representative of the organization Ty Gerasimov openly bisexual. She says that homophobia is deeply rooted in the minds of most conservative and Orthodox Christians of the country. More and more public opinion leaders such as journalists and artists, positively speak out about the rights of the LGBT community, but narodoizbrannogo policy continues to allow themselves gomobile and sexist remarks, she said.
"They know that they earn votes. Until they do that, change will occur very slowly," says Taya Gerasimov.
Insight fighting for the prohibition of discrimination on grounds of sexual orientation in the workplace. Today, employers in the private sector without any consequences for themselves to dismiss an employee who declares that he TRANS-, bi – or homosexual, as was the case with Anton.
A law that gives LGBT people more rights, would cause condemnation, says a former journalist Artem Skoropadsky. Now he is a speaker ultranationalists and homophobic party "Right sector".
When last year in Kiev under the protection of six thousand police held a gay pride parade that Insight was considered a proof of security of holding of the Eurovision song contest in Kiev Artem Skoropadsky has openly warned that the streets could spill blood.
"We are against the amendments in the laws. Then the law will be abused, inventing a reason why the person was fired. Besides, then they will have more rights than a heterosexual person," says Artem Skoropadsky.
His party, which does not take into its ranks the representatives of homosexual, there are a few seats in Parliament.
"The Bible says it's sin. "Right sector" — against their open propaganda," he says.
The fear that right-wing extremists will find a secret hideout
Eurovision-2017, which will be held in the Ukrainian capital in may, will be held under the motto "Celebrate diversity". Ukrainian LGBT movement would not miss this chance to draw attention to discrimination and human rights.
At the same time, although international music competition opens for discussion of this important topic, Ty Gerasimov sees that the background of the war the LGBT community is radicalized.
"Some believe that is not the time to talk about the rights of members of the LGBT movement now, when you need to focus on the war. But human rights need to discuss right now."
After Eurovision in Kiev and many other cities all over Ukraine will again be held gay pride parades.
"Right sector" with like-minded people and this year will do anything to prevent "propaganda".
"Even if this year the parade will come two thousand men, still heterosexual people who protest will be more", — says Artem Skoropadsky.
Residents of the shelter are very concerned that right-wing extremists can calculate the address. Anna, Anton, Vlad, Julia and the others who live there, very careful when you go outside or return to the shelter.
When we leave the apartment in the dark, they quickly lock up behind us, an unremarkable steel door.
Comments
comments