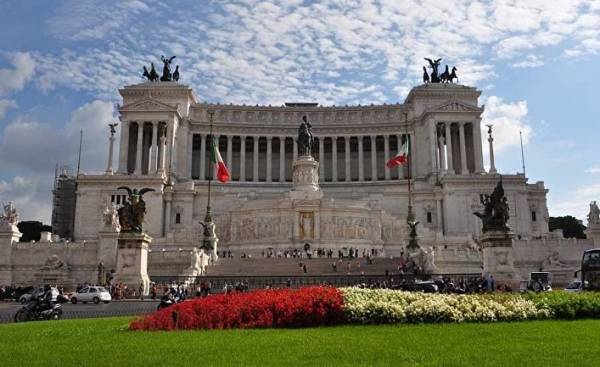 The restoration work lasted almost nine months, and today is the Grand opening of the Hall Horatii and Curiatii Capitoline museums, which again appears before us in its dazzling splendor.
In the opening ceremony involved the mayor of Rome VA Raja, Deputy mayor and assessor for culture Luca Bergamo, head of the Department for protection of monuments of cultural and natural heritage of the Capitoline museums, Claudio Parisi.
In their speeches, they, among other things, noted that the restoration works became possible thanks to sponsorship from Alisher Usmanov, who donated 300 thousand euros.
"These are important restoration work has returned us to the Hall Horatii and Curiatii in all its glory,' said Raja. — Work was completed for the 60th anniversary of the Treaty of Rome. The restoration work was carried out in the mode that allowed not to terminate the access of Museum visitors in the Hall, which was closed to the public for just two weeks and thanks, including patrons such as Usmanov, we again can use a full range of these places in museums".
Restoration work, in particular, was conducted in the upper part of the inner walls of the Hall, where are frescoes by Giuseppe Cesari nicknamed the Cavalier d'arpino, and the wooden ceiling of the work of the late nineteenth century, which replaced the genuine ceiling, Dating back to the XVI century.
Work began may 9, 2016 and was conducted openly, because this "construction site" the Department for protection of monuments of cultural and natural heritage of the Capitoline museums has included the visit so that visitors can see how the work is done.
"It's an amazing place and I want to thank the guy who provided funds to carry out these works in this Room, which has great political value — added of Bergamo. It 25 March 60 years ago was the signing of several treaties of the European Union".
Next, Bergamo reminded the audience: "in a few weeks it will bring together the heads of government of the European Union. I hope that sitting in this room at the table, they show common sense and responsibility, to understand how fundamental is their behavior to ensure prosperity and peace to our continent".
Comments
comments