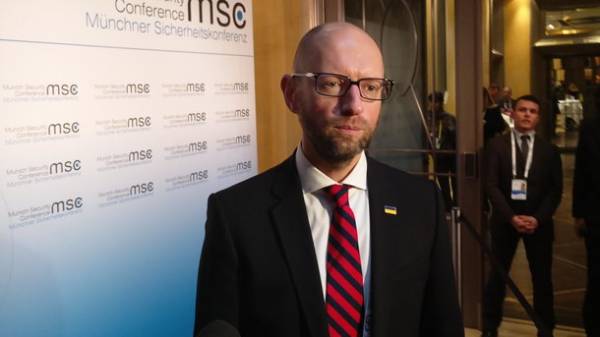 Thanks to the Munich security conference, Ukraine has managed again to draw the attention of the EU and the USA to the Russian aggression and the situation in our country. This was stated by former Prime Minister of Ukraine, leader "popular front" Arseniy Yatsenyuk.
"The greatest achievement of this conference – Ukraine is back in the agenda. The agenda not only in Germany and the EU, and the United States. Vice-President of the United States, the German Chancellor, the NATO Secretary General, Minister of foreign Affairs of France and Germany – all speak with one voice about the need not just to support Ukraine and defend the territory of Ukraine, the restoration of our territorial integrity, assistance to Ukraine and pressure on Russia to implement pechalnoizvestnogo of the Minsk agreements", – he said.
According to him, in the first stage, Russia should be forced to establish a complete ceasefire. The second – the diversion of arms. The third is the restoration of the territorial integrity of Ukraine. As noted Yatsenyuk for Ukraine it is necessary to provide support "not just words".
"I hope that, including the new us administration will consider the issue of support for Ukraine, both financial and military. And once again let me remind you – our position remains unchanged: in order to achieve peace in Ukraine, it is necessary to have a very strong Ukrainian army, strong diplomacy and a strong economy", – said the ex-Premier.
Yatsenyuk reminded that when he signed the Minsk agreement, the Chancellor of Germany Angela Merkel was the main actor and helper of Ukraine. This agreement actually stopped the offensive of the Russian troops.
"And I have to admit that it is because Russia is not going to move on for the de-occupation of Ukrainian territory and the restoration of political dialogue with our territories and their release from Russia. Most importantly, our European partners with us and the Americans spoke with one voice," he said.
Also, according to Yatsenyuk, when he was Prime Minister, was "Geneva format" of negotiations.
"I like it better than Minsk, and in fact, and form. In the "Geneva format" participant in the negotiation process were the US, EU, Ukraine and Russia, as the aggressor country. Then came the "Norman format" and here it is necessary to note once again that Merkel took the political responsibility to stop the advance of Russian troops in Ukraine, and she has achieved this. Now after the change of the American Administration think that we need to talk about formats, but about the essence of what we want to achieve. We want Ukraine to return the territories. If you need to increase the format, we are ready for any discussion, who else can take part in this format. The Americans, like the British, would become parties to this format because they were signatories of the Budapest Memorandum, which guaranteed Ukraine's territorial integrity.
Recall that the Munich security conference started on Friday, February 17 and will end on Sunday, February 20.
Comments
comments