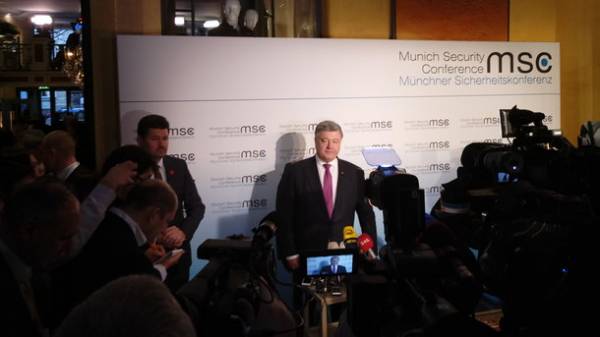 At negotiations with the Vice-President of the United States, Mike Pence, Ukrainian President Petro Poroshenko informed about the recently signed by the President of the Russian Federation the decree recognizing the documents of the so-called "DNR"/"LNR". About this Petro Poroshenko on the results of negotiations with the U.S. Vice President said during a briefing for Ukrainian journalists.
"I have just completed my meeting with the Vice President of the Penny. It was long, almost two longer than was planned. We discussed coordination of our actions, processes that occur in the East of our country – the Russian occupation, and coordination for the effective steps and the formation of the Ukrainian agenda in the negotiations with Russia. It is very important that already there were presented the results of the consultations in the "channel format". I was pleasantly surprised a very good proinformirovani Vice-President about the details of the processes that occur. I have informed the Vice President about the recent decision of President Putin on the recognition of passports in the occupied territories of the so-called "DNR"/"LNR". For me it is another proof of the Russian occupation and the Russian violations of international law. And very symbolic that it happened cynically during the Munich security conference", – said Poroshenko.
According to him, once more received a strong signal that the United States with Ukraine that the new US Administration, Ukraine is among the first priorities.
"The issue of Crimea and resolute struggle for the liberation of Crimea also remains among the priorities. No issues behind Ukraine solved is not planned and will not be. Together with the meetings held today with talks with German Chancellor Merkel, with our NATO partners, with other leaders, I believe that it is very important that both today and yesterday, Ukraine was among the first and main dark security of the conference and we received another confirmation of the strong global solidarity with Ukraine, helping us during the Russian aggression", – concluded the President.
As reported, Putin signed a decree on the recognition of "papers" so-called "DNR" and "LNR".
Comments
comments