The President of Russia Vladimir Putin on his page on Facebook (SIC — approx. the editorship of the new York times) posted a picture (collage via "Photoshop").
On it the President is depicted ferried across the river riding a bear, "armed" with a syringe with a vaccine in the shoulder.
Putin himself commented on his own photo: "Russia saves the world — a vaccine against covid-19 will soon receive in the different countries of the world."
***
Reader comments
Without a name
Wait until your competition! [in Iran announced a competition for developing its own vaccine against coronavirus infection — approx. transl.]. If the vaccine really appear we all shall be able to participate in mass tests.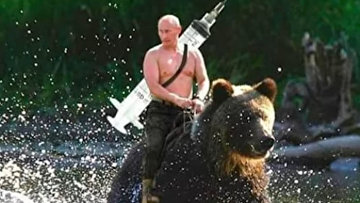 © CC0 / Public Domain, Meme: vaccine against coronavirus and Vladimir Putin
Without a name
Look, do not overdo it! Sometimes the consequences of excessive efforts are mad…
Bachmann Of Serger
Hi, thanks to Putin.
Iranian
The curse Putin — I wrote it so that my review accurately taken into account.
Elham
The curse Putin and bareheaded Westerners!
Turan
God forbid, that all turned out, so help them God! They have saved so many people, it is for the Almighty is very important — especially if you saved those who are weak.
Ali
I hope it will be!
Hamid-Reza Amini
Where self-deception — there is delusion, bordering on madness, and the story ends with the Russian vaccine from covid. And that photo of the rider on the bear speaks for itself.
Without a name
The coin has always two sides. Also, have any problem has its own challenges and difficulties.
Without a name
Thank God!
Without a name
Thank You Putin!
Omid
Photoshop was invented in order to expose Putin as a buffoon and to nullify all his efforts, however, Putin himself is not afraid to publish this photo.
Reza
America seemed to all of us the most civilized country, even too civilized. But the outbreak of coronavirus showed them what was worth all this civilization — health care for the poor and insolvent citizens there stood at the lowest level. Hence such a huge number of victims. The most terrifying disease… the Most terrifying level of unemployment… So let's because of our undue love for America will not fight with the rest of the world. I hope this vaccine will help humanity
Without a name
Thank God, thank the Almighty that there are Putin that can save all people…
Comments
comments