What to cook asparagus: three recipes simple spring dishes
Today, 19:50
Best recipes asparagus with photo
Irina Peacock
the editor of the Food
Asparagus is a great variety. It goes well with almost all products. Asparagus can be added to salads and vegetables, meat, and fish, to prepare her soups and stews. It is often simply boiled and served with hollandaise sauce.
To blanch the asparagus, gently lower it into the boiling water and cook until it becomes bright green color. It usually takes 2-4 minutes, depending on the size (or diameter) of the stems. Count the blanching time as soon as water again begins to boil. Cook asparagus small 2, medium 3, and large 4 minutes.
Breakfast with bacon, egg and asparagus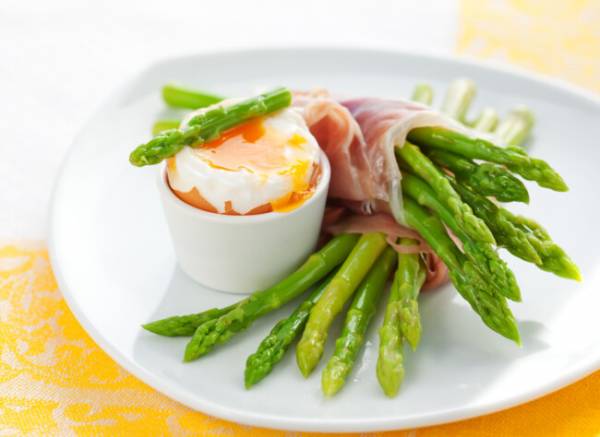 Asparagus with egg and bacon Photo: Depositphotos
Cooking time:
Ingredients:
5-6 pieces green asparagus
2 strips of bacon
1-2 eggs
1 teaspoon medium hot mustard
2 tsp lemon juice
3 tbsp olive oil
Salt, black pepper
Method of preparation:
Asparagus blanch for 2 minutes in boiling salted water.
Bacon fry on slow fire so that the fat as melted, and the bacon remained dry-crispy.
Boil the egg to the state of "in the bag". This is when protein is cooked, and the yolk only "grabbed" and more liquid. To put it in the water, bring to boil and cook for 4 minutes. Then immediately transfer to cold water. Clean the egg.
To make mustard vinaigrette. To do this, whisk in a bowl the olive oil, a little salt and pepper, mustard and lemon juice.
Serve the asparagus with egg, bacon and mustard sauce.
Tip: instead of bacon, you can roast the halved cherry tomatoes.
Cream soup of green asparagus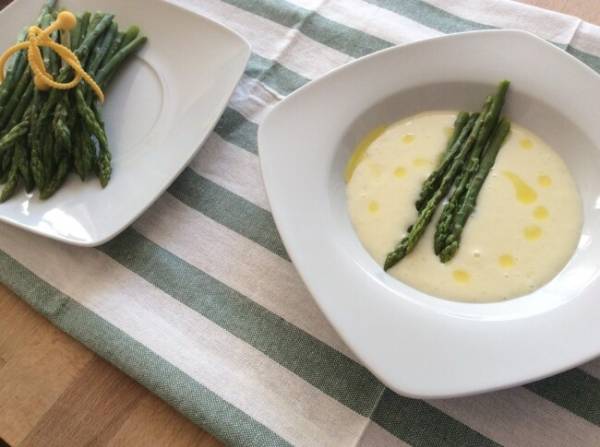 Asparagus cream soup Photo: Pixabay
Cooking time:
Ingredients:
600 g asparagus
2 tbsp. butter
2 tbsp flour
1/2 Cup dry white wine
3 cups vegetable broth or water
3 tbsp cream
Salt and pepper to taste
1 onion
Method of preparation:
Prepared asparagus cut into pieces.
Chop the onion and stew until soft in a saucepan with a thick bottom. Add the asparagus and cook, stirring occasionally, 4 minutes.
Pour in the wine and simmer for another 4 minutes, then add salt, pepper and broth. Bring to a boil, cook for 10 minutes.
Add the flour diluted in a little water. Cook until the soup slightly thickens. Blend the soup in a blender.
Pour the cream, pour into bowls to serve, sprinkle with olive oil and optionally adding a cheese such as goat.
Quiche with tomato and asparagus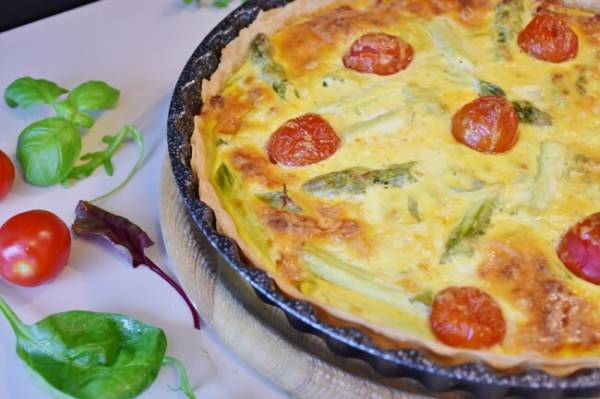 Tart with asparagus Photo: Pixabay
Cooking time:
Ingredients:
For the dough:
300 g flour
1 tsp. salt
160 g butter
A few tablespoons ice-cold water or milk
For the filling:
500 g green asparagus
250 g cherry tomatoes
150 g blue cheese
2 eggs
250 g cream cheese
Black pepper
Nutmeg
Olive oil
Method of preparation:
Flour, butter, salt, chop with a knife into fine crumbs. Add water and quickly knead the dough. Send it in the refrigerator for at least half an hour.
Put the dough in shape with a diameter of 28 cm and fingers to form the sides.
Asparagus wash, cut off the tips, the lower part clean. Cut into two or three parts. The top to be postponed, and the lower part is cut into slices with a length of 1 cm.
Pending the asparagus boil for a minute in boiling water and immediately rinse with cold water.
Cherry tomatoes wash and cut in half.
Cheese, eggs, salt, pepper, nutmeg, and fold in the bowl of a blender and whip until smooth. Add the chopped asparagus, spread the filling on the dough.
Top beautifully arrange the pieces of asparagus and tomatoes. Optionally drizzle with olive oil.
Bake pie in a preheated 200 ºC oven for 35 minutes. During this time the dough should be lightly browned, and the filling to set.
Before serving, allow to cool and cut into portions.
Earlier, we were told which dishes can be cooked from frozen green beans. Today.Lifestyle also shared the recipes of spinach.
Comments
comments