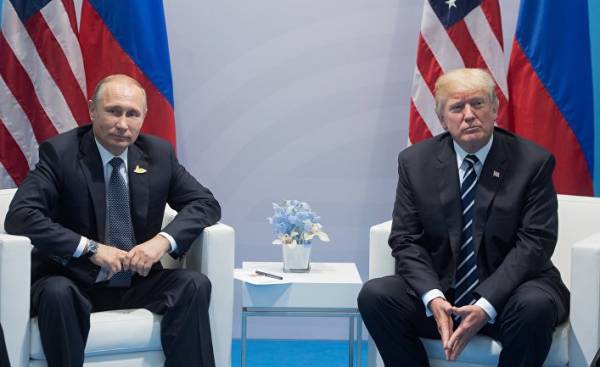 How amused the Internet conversation between Vladimir Putin and Donald trump! Social networks are teeming with jokes, gifs and memes about held, finally, the meeting between the two big guys of world politics and about the great brotherly love in the age of populism. However, the humor hides the alarm. Contacts between trump and Putin scare many. There is a widespread belief that Russia is a "hacked election" to ensure the defeat of Hillary Clinton, although evidence of this continues to cause heated debate. May trump talks with Sergei Lavrov were also perceived negatively, especially after trump apparently pure posturing — accidentally gave the interlocutor a state secret. Journalists darkly hinted that Putin will be "to manipulate the trump flattery" and subjugate it to his will.
However, in reality things are different. The administration of the tramp is not conducive to a serious rapprochement between Moscow and Washington. In fact, the irony of the situation lies in the fact that, despite all the Ahi and ohh on the Internet — the relationship between the US and Russia practically has not changed. For them is still characterized by an underlying antagonism in the style of the cold war. Moreover, to demonstrate that he was not disposed to Russia, too sympathetic, trump is forced to behave more hostile than he probably would like. Unlike Obama, he did not begin his presidential reign with a "reset" in the Russian direction. Trump doesn't act like "Putin's puppet". Rather, it took a Large bear the standard for America of the XXI century moderately hostile approach. On Thursday, he criticized Russia for destabilizing Ukraine, and even for supporting "hostile regimes, including Syria and Iran." During the election campaign, trump asked, "Why don't we get along with Russia?" However, this issue is now forgotten.
After his first meeting with Putin, Obama called him "a modern man, a gaze which is firmly fixed to the future." If trump says something even remotely like this, it just teased.
Of course, our conversation today will be moderately friendly — now trump is the standard method: prior to the meeting to speak about someone in a rude way, and then to start acting friendly. However, the overall tone of his statements about the West and the East still was no less anti-Russian than any of the Washington "hawks".
Comments
comments