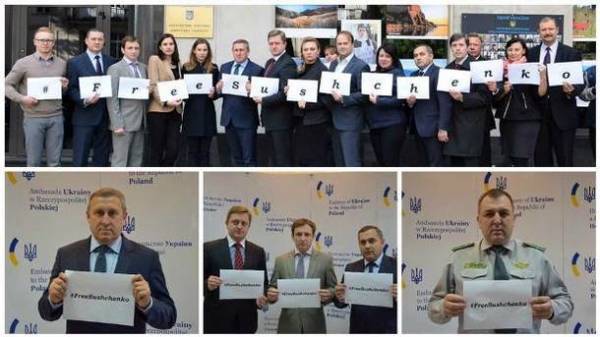 Embassy of Ukraine in Poland was marked by a flash mob in support of Ukrainian political prisoner journalist Roman Sushchenko and appealed to the world against Russia. This is stated in the message of the Embassy in Facebook.
It is noted that this action is timed to the anniversary of the detention of Ukrainians in Moscow. Diplomats say that Russian special services work in the style of the Soviet NKVD.
"A year ago in Moscow was illegally detained Ukrainian journalist of the Agency "UKRINFORM" Roman Sushchenko and to this day illegally held in a Russian prison for the charges against him. Russia uses the former repressive methods of the NKVD against Ukrainian and Crimean Tatars", – stated in the message.
SEE ALSO
In Russia, the court extended for two months the arrest of Ukrainian journalist Sushchenko
Also, the diplomats made an appeal to the international community to exert pressure on Russia that the Kremlin has ceased to carry out military aggression against Ukraine and have stopped majority of Ukrainians.
In the end, the head of the diplomatic mission and staff have their picture taken with the posters, the label of which has developed in the call for the release of Sushchenko.
Recall the FSB on 30 September 2016 in Moscow detained the correspondent of "UKRINFORM" Sushchenko, calling him a member of the Ukrainian intelligence service, which allegedly "purposefully collected information on the activities of the armed forces and of national guard troops of the Russian Federation, which represent a state secret". A criminal case against the journalist was initiated under article "espionage".
Comments
comments