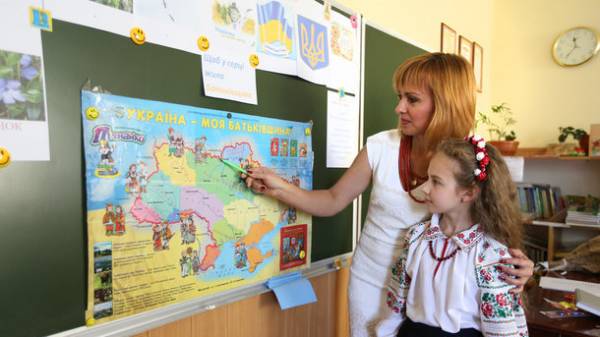 The President of Ukraine Petro Poroshenko and Prime Minister Volodymyr Groysman congratulated on teacher's Day Ukrainian teachers.
The President thanked the teachers for the education of the younger generation.
"The whole country bows to you for your tireless selfless daily work and active citizenship. Your talents and dedication, warm hearts and flawless execution of the mission for the education of young generations is the key to our selected European future", – said in greeting the head of state website.
Poroshenko reminded that Ukraine manages to implement reforms, including educational, despite the Russian aggression.
"Despite the Russian military aggression our government demonstrates a powerful commitment to reform in all spheres of life. And this bright October day marked a historic event – we're at the beginnings of fundamental changes in the national education, the planned new law of Ukraine "On education" and the concept of "New Ukrainian school," he said.
SEE ALSO
Portrait of the Ukrainian teacher: woman over 40 with a salary of 7000 UAH
In turn joined the congratulations on his page in Facebook and Volodymyr Groysman.
"Today is teacher's Day! A celebration of people who come into the life of each of us, it would seem, temporarily, but in reality remain there forever. I always remember with gratitude his teachers, those who have given me the knowledge and laid the values. For me it is a special day because my grandfather and my mother were teachers. These days, almost every year, if only possible, I attend their home school, to congratulate their teachers and, at least for the moment, together with them, to plunge into the happy years of his childhood school. Greetings, dear teachers, I want to say the most important word: "Thank you!". Strength to you and peace," – said the head of government.
Comments
comments