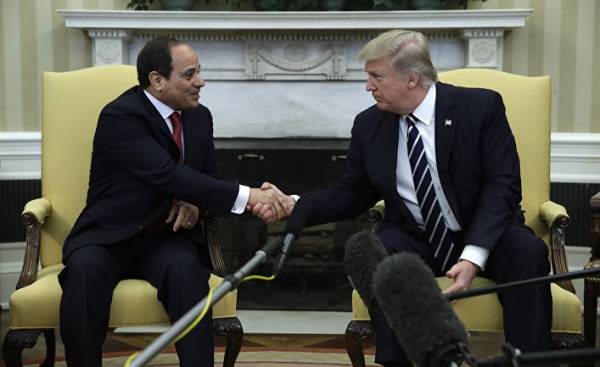 The Minister of trade and industry, engineer Tariq Cabel noted that the visit of President Abdul Fatah Khalil Al-Sisi in Washington in the light of new trends and benchmarks of the us administration is of great importance. He also pointed to the fact that Egypt is focused on economic issues.
On Monday night, during an interview Extranews (Egyptian TV channel — approx. ed.) in Washington, Cabel added that today's meeting with world Bank President Jim Yong Kim were important for the explanation of Egypt's efforts, which aim to support entrepreneurs. He also added that the world Bank evaluate and approve the economic measures taken by Egypt recently.
The world Bank published an annual report on the business climate in countries around the world. It is always a special interest for companies. Kabil have indicated that Egypt seeks to use this report to improve the country's image and attract large amounts of investment.
He indicated that a meeting was held with his us counterpart and the members of Congress, as well as with the ten largest investors in Egypt. Tariq Cabel noted that the number of American investments in Egypt is estimated at 23 billion dollars.
Moreover, the Minister of trade and industry stressed that American companies are steadily working in Egypt, explaining that the government makes every effort to ensure that the number of American companies in the Egyptian market increased.
He also pointed out the importance of today's meeting with representative of Corporation of General Electric, during which they discussed the issue of increasing the flow of investments to Egypt. In addition, there were a number of proposals for several projects that will be implemented in the near future.
On Monday, President Abdel Fattah Al-Sisi began his visit with a meeting with world Bank President Jim Yong Kim in Washington, DC. During this meeting they discussed the effectiveness and progress of economic reforms undertaken by the Egyptian government since November last year, and also prospects of cooperation between the world Bank and Egypt in future development projects.
Egyptian President Abdel Fattah Al-Sisi also met with the Chairman of the Board of Directors and chief Executive officer of the Corporation General Electric. They discussed prospects of cooperation of this company with Egypt and increase the flow of investment into the country.
Comments
comments