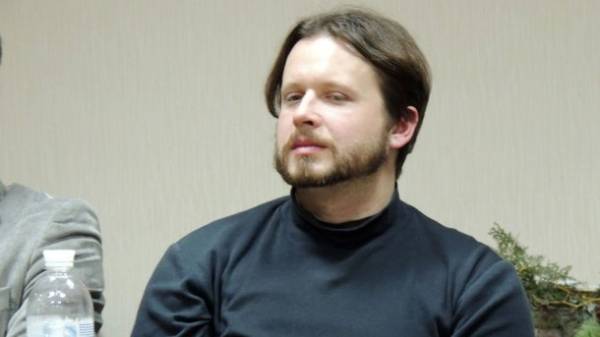 A literary evening was held at the Embassy of Ukraine in Germany in the framework of the Year of the Ukrainian language in Germany, writes "UKRINFORM".
"In Germany I am in a literary tour, during which planned a series of literary meetings, events organised by the Agency for cultural development "Litigant", Victoria Mikhailov. Night in Berlin – the first in this tour," – said the writer.
After Berlin the audience to communicate with readers also in Munich, Cologne, Dusseldorf and Paris (only planned on 8 nights), as well as with visitors to the famous Frankfurt book fair.
Participation in this literary event for Kolomiychuk – premiere. As part of a tour and at the exhibition he presents his new book is the sixth in a row in his Luggage.
"This is a book for adults, and for adults," explains Bogdan.
"King of pain" is a sequel to his debut book. It is an adventurous novel, which the unfolding events in Ukraine and Poland in the second half of the XVI century. It was a troubled time for the Polish-Lithuanian Commonwealth, the era of "beskorystno".
"But as you know, most troubled times, the dark periods of history are the most fertile for writers. The more they happen, the more the material for a writer-adventurer", – the author smiles.
Before you devote to adult readers in the details of the novel and his work, the audience played with the children in the "school of the young detective," by calling those real delight. The experience of such communication, the writer rich: "opiatelike period" of his life, he worked as an actor in children's theater in Lviv.
"The concept "School" – we create the literary work, adventure. I myself grew up on the adventures of Vsevolod nestayko, his "Forest school", and I don't have enough children, in a kind of adventure literature," says the audience. It is hoped that this interactive dialogue will give children an extra interest in reading generally. He also hopes someday to take on this type of literature, literature for children. "I believe that this should come to acquire skills and it is very responsibly," – says the author.
He is currently working on a detective for teenagers.
We will remind, the Russian author in Ukraine published a novel about emigration.
SEE ALSO
Mind and soul: interesting books about science, life and struggles
Comments
comments