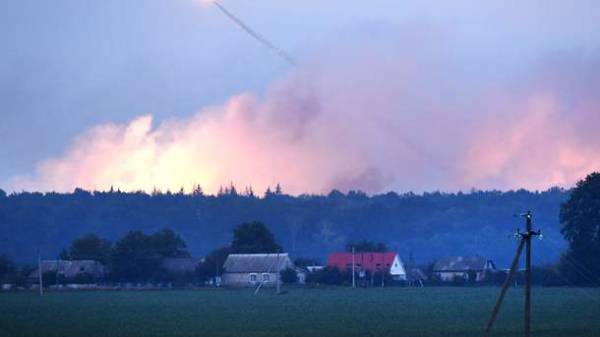 As of 7 a.m. on September 30 in the area of emergency situations in Vinnytsia region of open cells burning not, there is a single detonation of ammunition. About it reports gschs.
According to authorities, has resumed gas supply 6 119 subscribers in the city Kalynivka and surrounding villages.
"The situation is gradually returning to normal. The local population returned to their homes. The educational process in preschool and educational institutions will start from October 2 this year. Remains closed for air traffic within a radius of 40 kilometers from Kalinovka", – rescuers noted.
It was also examined for the presence of explosive devices 1700 hectares in the five settlements identified 205 potentially explosive items.
We will remind, in the evening of 26 September at the warehouse of artillery arms near the town of Kalynivka in Vinnytsia region there was an emergency. 20 kilometers from Vinnitsa explosions occur in warehouses with ammunition and weapons. As reported in gschs, the city has evacuated 30 thousand people.
We also learned from an employee of the Main Directorate of development and support of the material support of the armed forces Sergey Misiura about the arrest of saboteurs. Later the military Prosecutor's office denied this information.
In turn, the Cabinet decided to allocate for liquidation of consequences of explosions near Vinnitsa UAH 100 million.
As you know, the Arsenal was kept 188 thousand tons of ammunition (10 thousand conventional cars) in the area of 60 hectares. Among them rocket launchers "Smerch", "Uragan" and "Grad".
All the details on the explosions in the winery can be read here.
Comments
comments